Visore X is Where Editorials Meet E-Commerce
By: Olivia Marrone
In recent years, the fashion industry's digital presence has grown exponentially. From virtual fitting rooms to 3-D printed garments and designers using social media influencers in ad campaigns, it's no question that the future of fashion is digital.
With these digital shifts in the industry, naturally, the ways we shop have changed as well. One example of this is Visore X, an online fashion platform where magazine editorials meet e-commerce marketplaces (similar to sites like NET-A-PORTER).
Andrea Pérez, Visore X's Digital Marketing Coordinator, joined us to discuss the origins of the platform, what it's like working behind the scenes, and what Visore X's plans are with the increase of digital influences in fashion.. Check out the Q&A below.
Can you tell us about the origins of Visore X and the meaning behind its name?
The inspiration came to Karim Coppola, Founder and Creative Director of Visore Lab, after fantasizing about bringing the fashion and hospitality industries together. The past twelve months have been a roller coaster for us, but we were eager to reshape the concept of traditional marketplaces and magazines. With a goal is to encourage collaboration, we named the platform with an "X" to signal the intersection of a magazine and a marketplace—one that offers a curated shopping experience to its users. All in all, Visore bridges together different creative disciplines and encourages cooperation.
What brought you to the company?
After exploring the merchandising and styling industries, I came to France to pursue my Master's Degree in Marketing. I landed an internship in the Digital Marketing department at the Visore Lab in June 2020. This was during the initial stage for the company and I had to live, breathe, and absorb changes when the pandemic forced us indoors. I was drawn to this role because I resonated with Visore Lab's approach to bridging creativity and technology while encompassing self-expression and storytelling.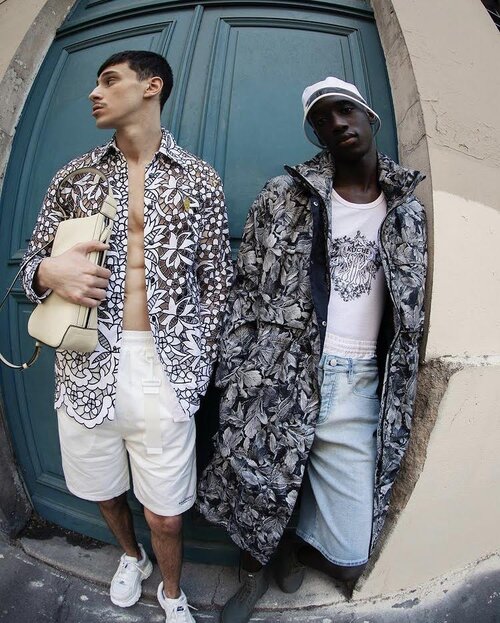 How does Visore X decide which brands to feature on its site?
We have an in-house team dedicated to targeting brands looking to gain visibility. Some of the brands we've featured include Alexandra Hakim, Roni Helou, and Too Dark to See Tomorrow. We also collaborate with fashion directors that work with established labels such as Prada, MiuMiu, Acne Studios, and Kenzo. The goal is to have a healthy mix of both—it's a push and pull strategy.
What is a typical day for you like at Visore X?
My days normally start with monitoring social media campaigns, doing media outreach, and researching potential collaborations with artists or brands. While the Parisian commute is not like they show it on Emily in Paris, we have the advantage of having our studio and office in the same place. I share the space with talented professionals of the team while rowing against the traditional waters of the industry. One minute we have clients flying overhead like a helicopter, and the other we're discussing The Antwerp Six!
There are daily challenges that come with startups, and Visore Lab is no exception. Because of this, I have learned to appreciate the process and all the little details behind the scenes. Working at Visore Lab is a constant, evolutive process that has pushed me to navigate creative disciplines that I was ignoring in my professional realm. Most importantly, the hybrid nature of our team inspires me every day!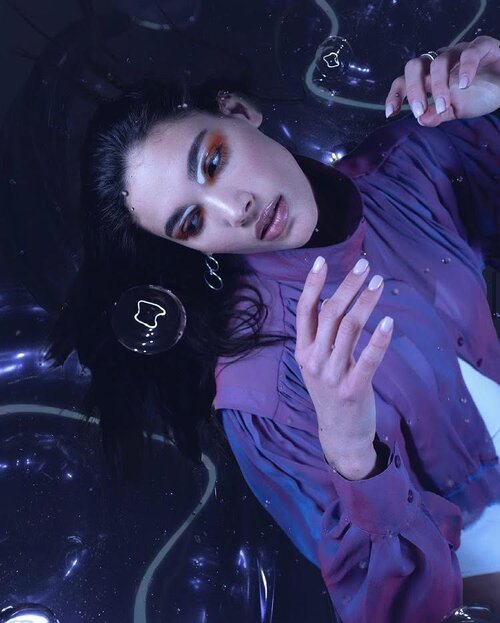 Along with Visore's e-commerce platform, there's also the creative agency, Visore Lab. Can you tell us more about that?
Visore Lab is a full-service creative agency that takes care of brands' needs and offers B2B and B2C solutions. From conceptualization to finalization of lookbooks, campaigns, editorials, and brand assets—we study what a brand needs and support them with our creative services and platforms.
What are the benefits of your company being based in Paris?
Paris is a cultural hub that hosts an inspiring community of forward-thinking people. As Visore X sets out to earns its territory in the fashion marketplace, we are lucky we get to constantly absorb feedback and critical standpoints. However, even though the Parisian fashion scene is perceived as mature, cultivating body inclusivity, for instance, remains a challenge.
On Visore Lab's Spttofy, there are playlists curated by some of the creatives your brand has worked with. Can you speak to the connection between music and fashion?
We strive to become a platform where we amplify the voices of talents whom we have worked with. Our Spotify is an extension of the free-flowing message Visore X and the community we aim to build. Our multidisciplinary approach as an agency allows us to explore our role across creative fields and build dynamic collaborations. For instance, I find that music helps people articulate themselves when other currents of their work cannot.
What does the future look like for Visore X?
We strive to be the go-to curated platform for fashion and design—a destination for those who are no longer governed by the traditional models. In the near future, we have many collaborations with artists underway.
---
To view Visore X's newly relaunched website, click here and to Learn more about Visore Lab, click here.