10 Things To Do in Aspen, Colorado This Summer
By: Valeria Ramos
One of America's most reputable ski-towns, Aspen, Colorado is just as beautiful and adventure-filled in the summertime as it is when covered in snow. After a week in the Aspen-Snowmass area, I've gathered just a few of the best hiking, shopping, eating, and drinking this place has to offer—skis not necessary.
Here are ten summer activities to do in Aspen, Colorado.
Hike (or take a gondola) to Maroon Vista
If you're acclimated to high altitudes and love a good workout and an even better view, Aspen has more than 100 hiking trails at varying levels of difficulty. However, one particularly special place is Maroon Vista which overlooks several mountain peaks, including Maroon Peak. If you want to skip the hike and take a scenic gondola ride up here, it will require a $25 pass (totally worth it).
Eat at the White House Tavern
There is no shortage of good eats in this bustling ski-town, but one spot I recommend is The White House Tavern. Located in a cute little house on the corner of East Hopkins Avenue, this tavern's portions are anything but small. Their crispy chicken sandwich is big enough to feed two people but so good that you won't want to share it. With outdoor seating, this is the perfect spot to have some food and drinks and watch all the cute dogs of Aspen walk by.
Visit Maroon Bells
Colorado's mountains offer breathtaking views for days and Maroon Bells, located in the White River National Forest, is no exception. If you're renting a car, I recommend skipping the tourist bus to this place and heading there on your own (parking is free after 5 p.m.). There are different hiking trails in this area that will most likely make you want to move to Colorado and never leave. Barbecue pits, benches, and fresh mountain air make this the perfect spot to sit and have a picnic after your hike!
Have a drink at Aspen Brewing Company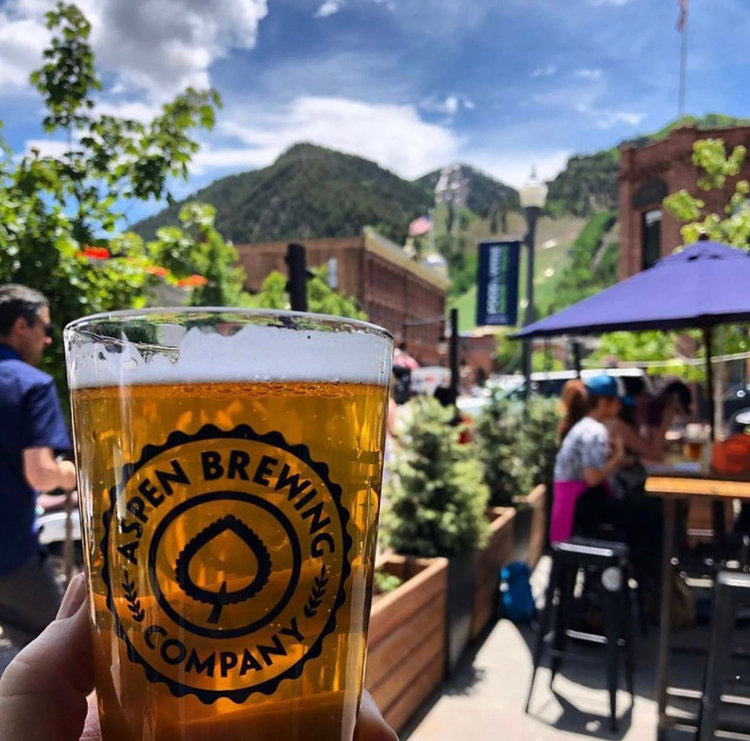 As a tourist (and a Texan) in Aspen, it was hard not to just stare at the view around me in awe. After all, mountains in the eyes of a Texan are all the more jaw-dropping. A great way to sit back and take in the beauty of this picturesque city is by having a beer outside of Aspen Brewing Co and #DrinkInTheView.
Shop around
Aspen is home to plenty of shops, and while most are pretty pricey, it can be pretty fun to just window shop or sit in the outdoor plazas and people-watch. From edibles and clothing to art and coffee, there is a shop for everyone in Aspen. You won't have any problem finding a good souvenir or a delicious pastry either.
Stop by Hotel Jerome
Built in 1889, this is the oldest hotel in Aspen and was recently revamped by Auberge Resorts. However, walking through this beautiful hotel is still like walking right back in time. Stunning vintage decor, elegant atmosphere and amenities, and a supposed haunted past make Hotel Jerome the "crown jewel" of Aspen. According to legend, in the hotel's early days, a young boy unwatched by his mother wandered into the pool and drowned. Known as "the water boy," the ghost of this child is said to haunt the hotel to this day. While I didn't see any small, wet footprints during my time at Hotel Jerome, the hotel's storied past gives this place an intriguing edge.
Explore John Denver Sanctuary
A lush, green park with beautiful flowers and rocks engraved with John Denver lyrics makes for a unique, scenic sanctuary perfect for an afternoon of exploring and taking pictures. This area was created in honor of John Denver, who made Aspen his home and fought to converse its Rocky Mountains.
Aspen Saturday Market
Spend your Saturday morning strolling past booths of Colorado produce and artisan products. From fruits and snacks to handmade jewelry and art, you'll be surprised what you might walk away with after a morning at the market
Visit Snowmass Village
If you're in Aspen, there is no reason to not check out the picturesque village is that is Snowmass. Only a thirty-minute drive from Aspen, this place is full of good views, good eats, and free music! Thursday nights Snowmass hosts free concerts where you can grab a drink and enjoy live music in the open mountain air.
Explore the great outdoors
Jeep adventures are a popular option for scenic rides and off-roading around Aspen and Snowmass. White water rafting, paddleboarding, horseback riding, and biking are just a few of the many other adventurous, outdoor activities you can partake in while in Colorado. There is no better way to experience all the mountains and lakes than to go out into this city's stunning nature and have some fun.