The Single Girl's Guide to Loving Valentine's Day
By: Mies Allen
I was fourteen years old when I discovered the beauty of Valentine's Day. It was never something I considered a celebration when I was growing up. Although my mother is certainly a romanticist, adoring literature and art more than any person I know, her cynical side led her to believe that Valentine's Day is simply a commercial holiday spun together by American card companies, putting unnecessary pressure on people, particularly women, to be part of a 'perfect couple' in order to be fulfilled.
While I am aware that this point of view is entirely valid, the romantic in me was far too persistent for me not to take an interest in Valentine's Day.
I am an obsessive romantic. My favorite paintings depict cherubs dangling from stars, my favorite stories are about tragic and all-consuming relationships, my favorite films are classic Old Hollywood tales of great love, and my favorite thing to do is lounge in a bubble bath surrounded by rose scented candles while Billie Holiday resonates within my tiny bathroom.
All of these things are deeply associated with Valentine's Day, except for one thing—a partner is entirely optional.
I have always celebrated Valentine's Day, whether I had someone to share it with or not.
This year is the first time since I was fifteen that I will be spending it away from my boyfriend, and as much as I love him, I am perfectly happy with the idea of reclaiming Valentine's Day from the claws of card companies, and enjoying it the way I imagine Saint Valentine would have wanted – in pure, unadulterated indulgence.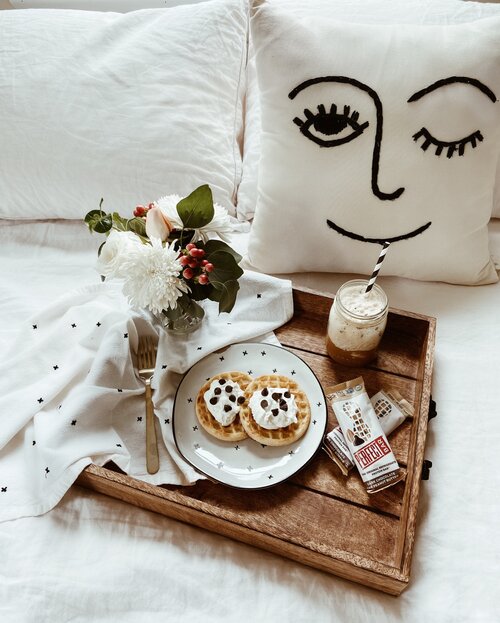 Here is the single girl's guide to loving Valentine's Day
With every luxurious hour accounted for.
10 am – Wake up after having treated yourself to a luxurious lie-in. Naturally, the night before, you will have followed our 7 Steps to Sleeping Sweetly, and awake feeling more rested and refreshed than ever. Nothing says self-love like lounging in silk sheets after you wake up, so reach for your favorite romance novel (I recommend female-led classics such as Bronte's Jane Eyre for such an occasion) and get comfortable.
11 am – Throw on a silk robe and glide your way to the kitchen to prepare what should be your most indulgent breakfast of the year. Think along the lines of Belgian waffles accompanied by strawberries and melted Nutella, or if you prefer a savory start, try creamy scrambled eggs, made more decadent by adding chives and tomatoes.
12 pm – On Valentine's Day, we all get an excuse to spend the day all dolled up. This is the perfect opportunity to explore outfits that you may feel are too formal for everyday wear. For example, a minidress and low heels paired with pin-curled hair and a vintage fur coat. Lingerie is the foundation to feeling beautiful and put together, so don't underestimate its power and check out our V-Day Lingerie Guide! Makeup-wise, it wouldn't be Valentine's Day unless you pull out all the stops, so grab a long-lasting red lipstick that best suits your mood.
Romantic makeup ideas for Valentine's Day
Whether you're going on a date, celebrating Galentine's Day with your besties, or treating yourself to a day of self-love, these makeup ideas will have you feeling yourself all day long.
Photo: Lily Aldridge
1 pm – Take some friends out to your favorite local cafe or restaurant for a long lunch. Ignore your phones, gorge on sweet pastries, and linger for at least two hours, talking about nothing and everything to remind yourself of why you love them.
3 pm – Because nothing is more romantic than the arts, spend a few hours engaging with it however you can. Visit a gallery, take a walk around a library, watch a play, or simply explore your city and find beauty in the nature around you.
5 pm – The late afternoon is reserved for rewarding yourself for the cultural afternoon you just had (and perhaps healing those sore post-museum-visit feet). Grab a little nook inside a street cafe, or if the weather allows, sit outside, and enjoy a decadent coffee or afternoon cup of tea. Watch the world go by and really take in your surroundings—it's better than meditation.
7 pm – This is my favorite part of Valentine's Day—the long, extravagant bath. I recommend adding a few drops of lavender and rose essential oils into the water, as well as a sweet-smelling bubble bath. Lather yourself in luxurious soaps and exfoliate your body. Top it off with a face mask, a glass of wine, and some cheerful music. Your body will thank you.
8 pm – On a day like Valentine's, treat yourself to an early night and don't feel guilty about not going out or working into the night. Sometimes the best form of self-love is allowing yourself to truly switch off. Slide into those your sheets and watch a classic romance movie. I enjoy epic Old Hollywood romances such as Gone With The Wind or emotional love stories like Call Me By Your Name (particularly as there's nothing more enjoyable than watching Timothée Chalamet speak Italian). Treat yourself to some decadent chocolate too—it induces sleep after all, and you deserve it.