The Beauty and Heartbreak of Norman F*cking Rockwell!
By: Megdalyn Leilani
Lana Del Rey is back with her sixth studio record Norman Fucking Rockwell! and we couldn't be happier with the outcome.
Del Rey worked with Jack Antonoff on this record with additional contributions including Zach Dawes, Andrew Watt and longtime friend, Rick Nowels.
This record focuses on the simplicity of production and the use of strings and keys, which led to the making of The Next Best American Record of the year. She never shies clear of making a beautiful, yet heartbreaking record, filled with regrets of past relationships and how growing as a woman/artist can be a beautiful struggle.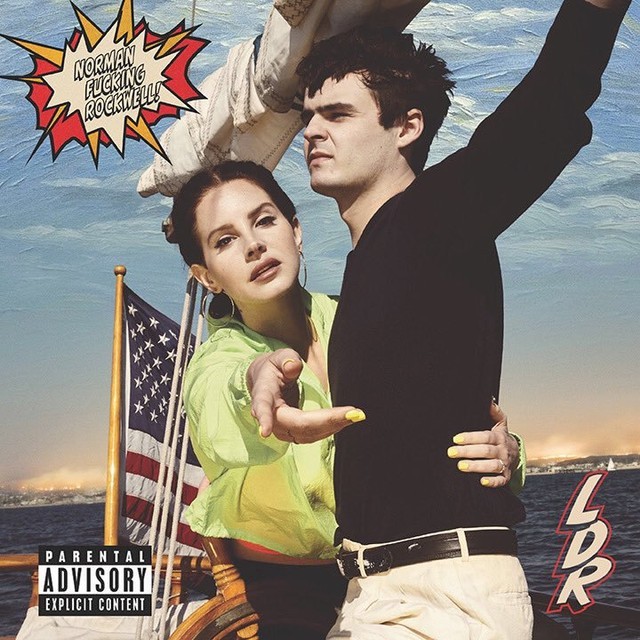 In an interview with Vanity Fair, Del Rey shared the name, NFR!, is a humorous take on the American Dream.
"It was kind of an exclamation mark: so this is the American dream, right now… This is where we're at- Norman fucking Rockwell. We're going to go to Mars, and Trump is president, all right."
NFR! showcases the chaos and nostalgic reminders of past/present/future of America and how the similarities of past and present are extremely visible.
Del Rey is no stranger to sharing deep and dark personal thoughts with her fan. With her records, she has always been labeled as pop culture's sad girl.
On the closer of NFR! Lana, full of emotion, sings "Don't ask if I'm happy, you know that I'm not/But at best I can say I'm not sad." This ties into her one-dimensional "sad girl" persona, showing that she is not only singing about self-deprecation but life-changing urgencies as well.
Just like many other people, Del Rey longs for simpler times and feels heartbreak through tragic deaths of figures in the entertainment industry. Del Ret pays tribute to Sublime's Bradley Nowell, who died of a heroin overdose in a San Francisco hotel at the age of 28 and the Beach Boys' Dennis Wilson, who tragically drowned in Marina del Rey harbor, at the age of 39.
Covering Sublime's Doin' Time was an important part of NFR! and fits perfectly with Del Rey's California coolness.
Honing in on the endlessly evolving West Coast, a place once home to the American dream and now seeming like an American nightmare, California, the ninth song on NFR!, highlights the struggle people feel in California, from keeping up with appearance/lifestyle to seeming like everything is okay. 
The lyrics, "I shouldn't have done it but I read it in your letter/You said to a friend that you wish you were doing better/I wanted to call you but I didn't say a thing," perfectly describes how we are living in America nowadays… knowing when a friend is struggling, but failing to reach out and how it can be too late for them.
Norman Fucking Rockwell! is nothing short of a masterpiece… capturing life as we know it and the hardships of change, heartbreak, and longing for things we cannot have. These lyrics are flooded with emotion and comparisons of personal and general struggle.