Sarah Burton's Best Designs for Alexander McQueen
By: Yashua Edwards
My love for Alexander McQueen all started with my older sister, a major fashion buff, like me, dedicated an entire wall in her room to the eccentric fashion house. Ever since my first glimpse at McQueen's Fall 2013 ready-to-wear collection (who could forget the elaborate headwear?), I fell in love with the house of McQueen.
Founded by Lee Alexander McQueen in 1992, the British designer was the head of his namesake label until his untimely death in 2010 at the age of 40, by suicide.
In May 2010, Sarah Burton was named Alexander McQueen's new creative director and has since never failed to bring the "wow factor" to all her collections, including the four current collections featured in this article.
From an all-pink suit in the Spring 2020 Menswear collection to an edgy leather and lace dress from the Spring 2020 ready-to-wear collection, this post covers Sarah Burton's most memorable designs for Alexander McQueen.
Pre-fall 2019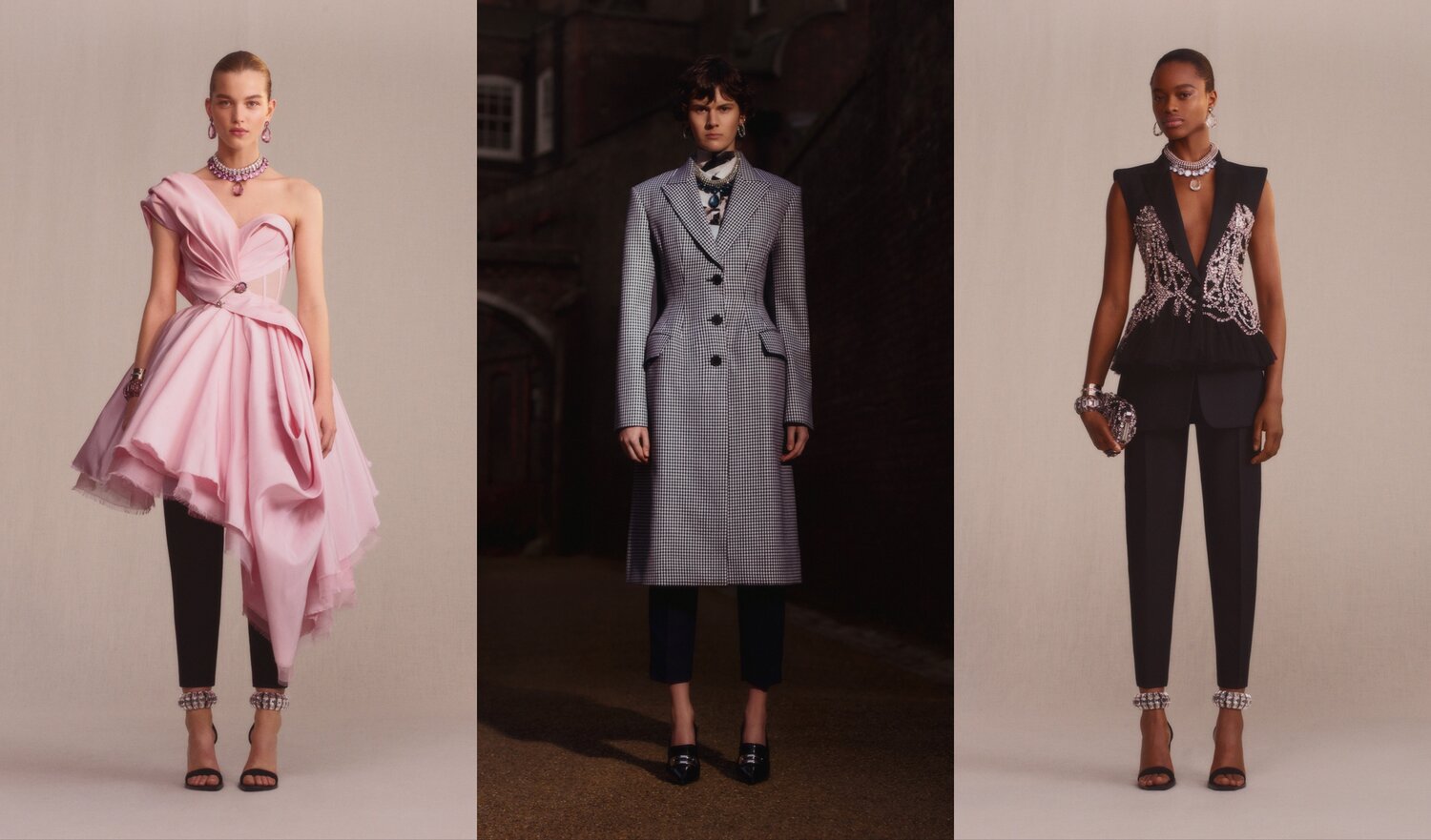 Suits with acute attention to detail and eye-catching heels that are sure to turn heads; you can discover all this and more in the Pre-Fall 2019 collection. My favorite look has to be the light pink tunic top with a raw hem, paired with a pair of black trousers and statement peep-toe pumps. Each look is paired with statement jewelry – pieces that add the perfect finishing touch to each outfit. This collection gives me elegant, modern princess vibes and in one of these looks, you'll never fail to turn heads.
Spring 2020 Menswear
McQueen's Spring 2020 Menswear collection is a wake-up call for those who tend to overlook menswear. Perfectly tailored and brightly colored suits and leather are a strong focus in this collection. This may be a menswear collection, but I would definitely rock the color-block sweater and both of the studded leather jackets. Pair one of those jackets with a pair of ripped jeans and a pair of white Dr. Martens and you're an edgy style queen ready to conquer the day!
Spring 2020 Ready-to-Wear
Lace and leather take center stage in the Spring 2020 Ready-to-Wear collection. This is hands down my favorite collection because I adore white lace and it's implemented in so many ways throughout this collection. My favorite look is the stunning white lace suit. Lace and leather are also combined in many looks resulting in a glorious tough meets feminine match made in heaven.
Resort 2020
The Resort 2020 collection is a smorgasbord of great fashion looks! You have tie-dyed tiered dresses, leather dresses, and the ever-present suit. A color palette of reds, pinks and black, puts me in the mood for Valentine's Day! Fall in love with the Resort 2020 collection because all the looks are more than worthy of your ardor.
As you all know by now, I love to find a designer's signature (something that they execute continuously in their collections). Based on these four recent collections Sarah Burton's designs for Alexander McQueen have three distinct elements: lace, leather, and suits. The implementation of one or more of these signature attributes in her collections makes for fun and unique designs. You can never go wrong working one of these signatures into your wardrobe and you have the inspiration of Burton's designs for Alexander McQueen as proof of how prodigious you can look when you do.