Oscar de la Renta: Low-Key Glamour for Resort 2021
By: Yashua Edwards
In describing Oscar de la Renta's Resort 2021 collection to Vogue's Nicole Phelps, Creative Directors Laura Kin and Fernando Garcia quipped, "Less serious, quintessential and playful."
With the current pandemic, the designers wanted to temporarily replace de la Renta's opulent gowns with more effortless but equally vibrant dresses and matching sets "that still deliver the trademark Oscar de la Renta glamour, but in a lower-key way," raves Phelps of the Resort collection. I've broken the collection down into three featured patterns and designs that make for an immaculate collection that could only come from a fashion house as iconic as Oscar de la Renta.
Florals galore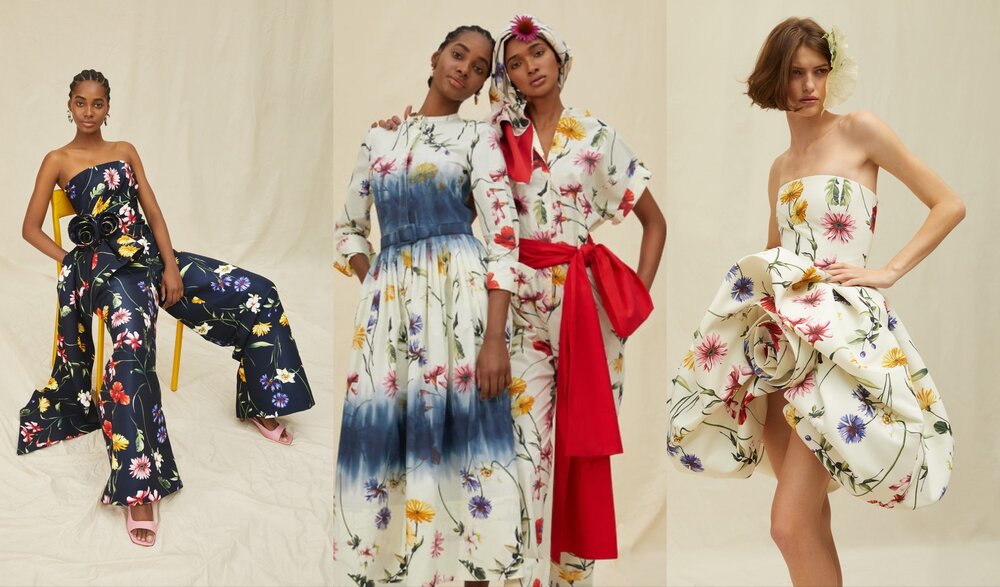 The intricate floral designs in this collection did not disappoint! Designers incorporated hand-painted florals "to convey the sense of occasion that they once depended on lavish embroideries for," as Phelps put it. The floral prints are not only beautiful but also vibrant enough to instantly boost the mood of anyone wearing them. Perfect for a day or nighttime event, go ahead and have your floral moment with a little help from Oscar de la Renta.
Pattern play
Garcia and Kim were not shy with the patterns in their 2021 Resort collection, showcasing matching sets and ankle-skimming dresses in eye-catching, playful patterns anyone can get behind. From classic gingham and plaid to chic stripes and chevron, there is a print for everyone in this collection.
A solid choice
You can never go wrong with a monochromatic outfit, especially with bright, crisp colors that make a statement and stand out in a crowd. From a bright yellow dress with elegant draping and cultivated cutouts to an all-red two-piece for the bold and daring, turning heads in a single color has never been easier to achieve.
Looking at a new collection from any big-name fashion house always got me excited, but more so now because of how all our lives have changed in just a matter of months. Looking at collections like this give me the biggest sense of some normalcy because, even though some of the things I enjoy have been taken away, for now, it's a relief that fashion houses, like Oscar de la Renta, still present us with timeless collections that we can gaze at and enjoy from the comfort of our homes for days on end. Fashion is truly a great escape and a plentiful source of inspiration.
View the full collection here.