Not Pot: Are These CBD Gummies Worth the Hype?
By: Valeria Ramos
CBD has been slowly taking over as a star ingredient in the beauty and lifestyle markets. CBD, short for cannabidiol, is a compound found in the cannabis plant that, unlike THC, is non-psychoactive and has no high associated it. CBD is reported to have anti-inflammatory, anti-anxiety, and neuroprotective properties.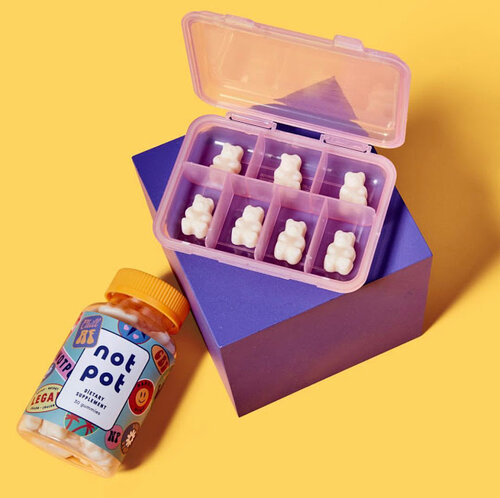 Curious about the benefits of CBD, I did some research and discovered Not Pot, a CBD gummy brand that caught my eye with its aesthetic packaging and friendly customer service reps. After browsing through Not Pot's reviews, I discovered that most who tried the product reported feeling less anxious and getting a better night's sleep. Some people even claimed these bear-shaped gummies became their alternatives to medications such as Prozac and Xanax.
As a sucker for a great night of sleep and reduced anxiety, I decided to give these gummies a try.
Review
I received two bottles of Not Pot's CBD gummies in an adorable stash bag. Their gummies are vegan and derived from organically-grown USA hemp. Each bottle retails for $40 and contains 30 gummies per bottle—even though they can easily fit 60.
I must admit, I was skeptical. I wondered if how I felt after eating these strawberry-flavored gummies would be more of a placebo effect than anything else.
On the first night of my CBD gummy trial, I took one gummy and felt nothing. The next night, I took two and slept like a baby. While I felt no difference in levels of anxiety, when I took two gummies before bed, I slept through the entire night without waking up (a rare and magical occurrence for me). However, on nights before big events like exams or presentations, I found that even two of these gummies weren't powerful enough to keep me snoozing through the night.
Finals Thoughts
Overall, I found Not Pot's gummies to be a great addition to my nighttime routine and not just because of how good they taste or how cute they look on my bathroom shelf. I recommend CBD gummies to anyone who struggles to get a full night of sleep or is curious about what this compound can do for their anxiety. If you're questioning if the CBD is worth the hype, Not Pot just might be your answer!