Lingerie as Outerwear: A Timeline of Fashion's Sexiest Trend
By: Valeria Ramos
Lingerie as outwear is one trend that is impossible to ignore. Corsets, bralettes, and exposed lingerie of all kinds dominated the S/S 20 runways with Loewe, Alexander Wang, and Givenchy spearheading the trend. The result? Pieces once reserved for the bedroom become street-appropriate with the right styling.
Layered under mesh, paired with denim, or under a jacket— lingerie has been making regular appearances in daily wear more than ever. While this trend feels new, exciting, and sometimes scandalous, lingerie as outerwear has been a thing longer than you might think.
The corset
Underwear as outerwear emerged as early as the 16th century when Queen Catherine de Medici of Florence introduced the corset to the French court. Over the next centuries, corsets became an essential part of women's fashion, intended to be seen. It wasn't until the early 1900s when French designers like Paul Poiret and Coco Chanel changed the game, swapping restrictive petticoats and corsets for loose-fitting trousers and suits.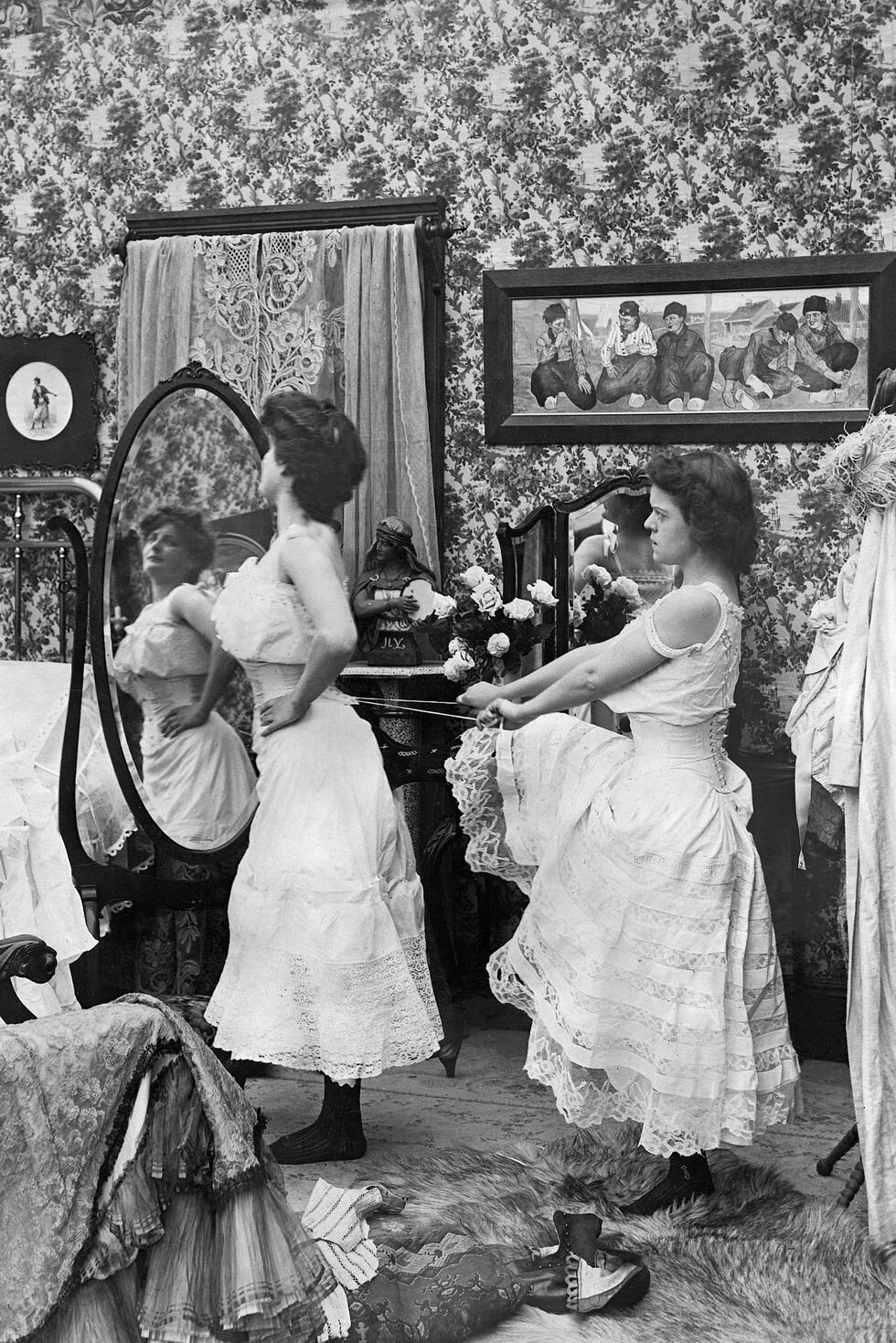 Like all trends, the corset reappeared. In the mid-70s, Vivienne Westwood put a modern, sexy twist on 18th-century style garments. Legends like Thierry Mugler, Alexander McQueen, and Jean-Paul Gaultier followed suit with their own sexually-empowering pieces. In the 90s, Madonna popularized a style of fetish dressing with her iconic cone bra designed by Gaultier for her Blonde Ambition tour in 1990.
The thong
Lingerie as outerwear was also a key component of Tom Ford's reign at Gucci, an era associated with a sense of sophisticated sensuality. At his Spring/Summer 1997 show, Ford showed an iconic Gucci thong featuring a silver Gucci emblem on the back.
Often referred to as the "whale tail," this trend continued into the early 2000s, where low-rise jeans were often paired with peek-a-boo thongs worn by the likes of Paris Hilton, Christina Aguilera, and Manny Santos in Degrassi: Next Generation.
The thong wasn't just reserved for streetwear, it also made appearances in high fashion. At John Galliano's Fall/Winter 2001 show for Christian Dior, models were styled so that their thongs peeked out of their pants for a cheeky lace detail.
As we approach a new decade, there's no telling which trends will fade and which will last. However, because lingerie is a staple in the wardrobe of many women, we don't see this trend going away anytime soon. Just months ago, Donatella Versace paid homage to the trend at Versace's Spring/Summer 2020 collection with low-rise black pants featuring thong straps embellished with the house's medusa logo.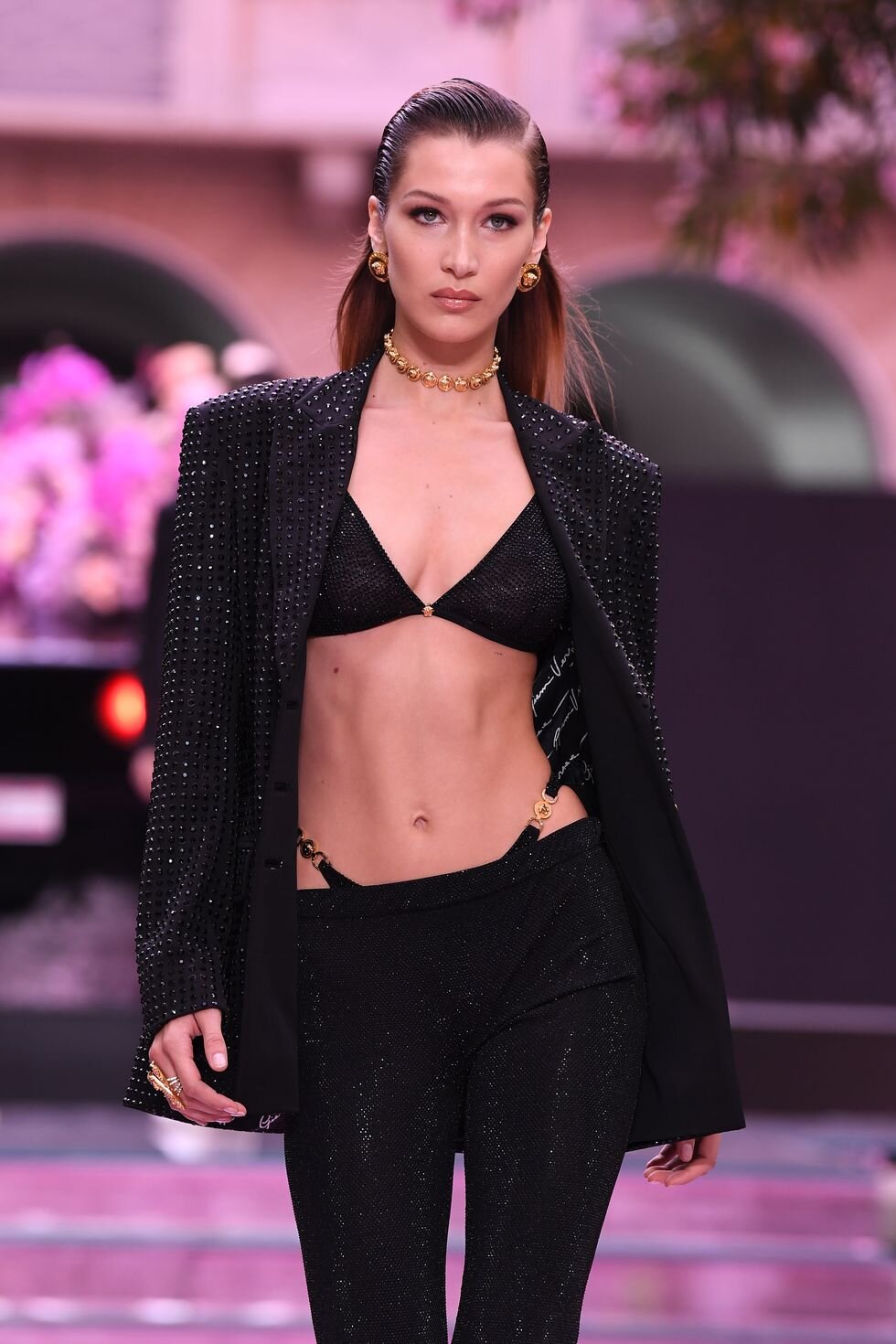 While commonplace today, underwear as outerwear was once a radical fashion statement, with women initially scrutinized for wearing something that empowered them. From corsets of the 18th-century corsetry to whale tails of the 2000s, provocative designs serve as a challenge to society and the status quo. The evolution of this trend proves that it's okay to wear whatever you want, so long as you wear it with confidence.