The Lily-Rose Depp Style Guide
By: Olivia Marrone
With her understatedly feminine look seen as the perfect mix of Parisian chic meets American ease, Lily-Rose Depp has quickly become a style inspiration to many. The French-American actress, model, and Chanel ambassador has had many great fashion moments both on the red carpet and street style that are looks that can easily be taken from day to night. If you're looking to emulate Lily-Rose's effortlessly chic and feminine aesthetic, here are five easy ways to incorporate her style into your wardrobe.
90s oval sunglasses
Despite Lily-Rose's sunglasses being Chanel, you can look just as chic without breaking the bank. This sunglasses shape has been very popular in 2021, so retailers at all different price points are selling them! This is an easy way to add a subtle 90s touch to your outfit and shows that you're aware of current fashion trends while still keeping your own personal style
Make it cropped
From skirts and dresses to cardigans and jackets, Lily-Rose often opts for a cropped hemline. This is a great way to play with proportions and easily add depth to your outfit. Additionally, within this style tip you can try out the varying lengths of crops to find which length works best for you
Straight-leg jeans
When not wearing mini skirts or dresses, Lily-Rose can likely be found wearing straight-leg jeans. These jeans are a great shape because they have a structured silhouette but with a looser fit around the legs, making them stylish and comfortable. Additionally, at the right length, these are great jeans if you're petite as they give the illusion of your legs appearing longer.
Camisole tops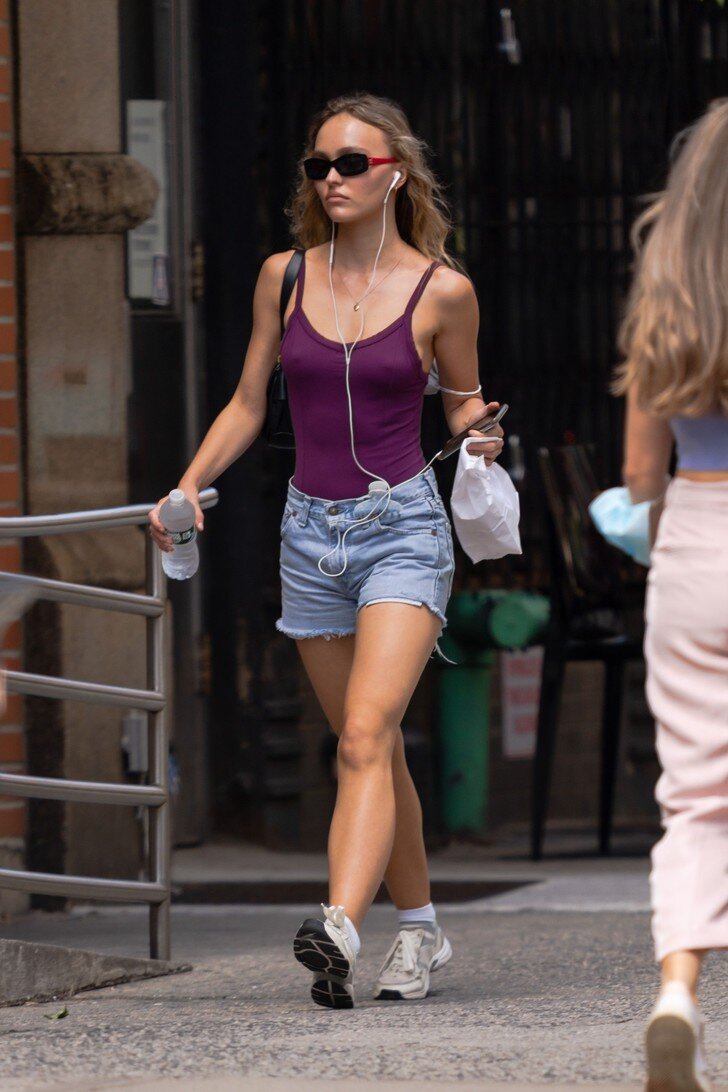 Whether it's made of cotton, lace, or satin, camisoles are one of Lily-Rose's go-to tops. Perfectly paired under a cardigan or worn alone, this top gives an understatedly feminine touch to any outfit. You can easily take this from a comfortable day look to chic evening attire just by switching your shoes and accessories.
Kitten Heels
It's not uncommon to see Lily-Rose running errands in a pair of kitten heels, and this choice of shoe is one of the main aspects that help dress up her casual looks. While she has worn this shorter heel in the form of knee-high boots and sandals, ballet pumps are often her go-to. This is a perfect way to switch up your go-to shoes and instantly elevate any look.