Julie Kandalec is Taking Good Manicures Global
By: Valeria Ramos
When she's not manicuring Hollywood's finest or sharing her best nail care tips with us, Julie Kandalec can be found jet-setting around the world gathering inspiration for the latest nail art, runway trends, and cutting edge nail techniques that she is known for in the beauty industry.
It was on one of these trips where Kandalec discovered a recurring problem in many of the places she frequented – hotel spas and even luxury resorts lacked the nail education to provide services that would keep customers coming back.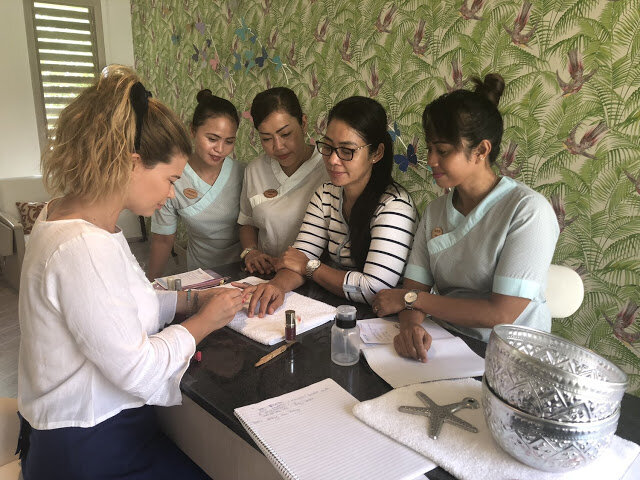 Identifying this issue and having the skill set to solve it, Kandalec decided to launch a new global education program, Masterclass Nail Academy, that would elevate the nail skills of technicians in resorts all around the world.
Not only does Masterclass Academy aim to provide better manicures and a better experience for clients and hotels, but also creates the long-term opportunity for spa technicians to earn higher wages.
"I'm thrilled to extend my passion for this industry to both existing nail professionals and nail students all over the world," said Julie. "Helping them to grow their careers through furthering their knowledge and skills is incredibly rewarding."
While Kandalec will be stepping down as Creative Director of PAINTBOX to focus on launching this new global education program, she will stay local in New York City and continue with her on-set, red carpet, and fashion week work.
With more than 20 years of experience in the beauty industry, Kandalec has not only worked with just about every A-lister as Essie's lead celebrity manicurist, but she has also created nail looks for companies including Dior Beauty, Chanel, Victoria's Secret, Maybelline, and many more.
It is this experience coupled with her passion and creativity that is sure to improve every spa she visits, bringing better manis to the world, one nail technician at a time.