Jeremy Scott Accused of Stealing Design (Again)
By: Valeria Ramos
At Milan Fashion Week this year, Moschino's Jeremy Scott sent a parade of Picasso-inspired looks down the runway. Amid all the applause and excitement, Scott has been accused of stealing the design of 25-year-old designer Dorothy Williams, whose graduate collection looks awfully similar to Moschino's framed painting design.
Williams reached out to us and shared her frustration with Moschino and what she wishes big designers like Jeremy Scott (who is no stranger to plagiarism) would take into account when they send out new collections on the runway.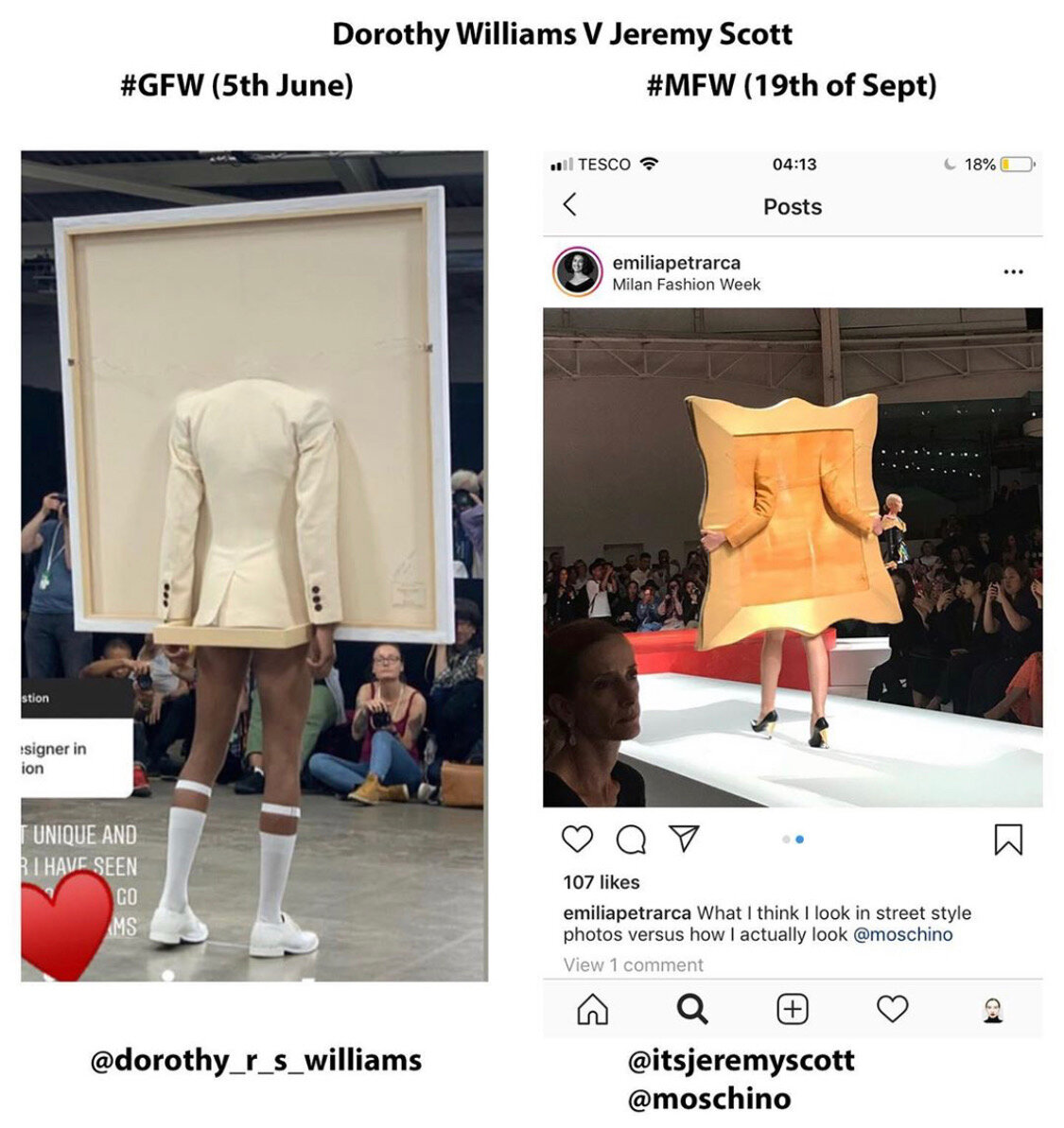 What was your initial reaction to Moschino's wearable canvas design?
I was out at the time and remember checking my phone much later in the evening of the Moschino show only to find an inbox full of people sending me images and videos of Moschino's wearable canvas frame. I have always been conscious of graduate and emerging designers' work being stolen from big brands, especially Moschino with the constant allegations they receive so even though I was utterly devastated I was not surprised.
Has anyone from Moschino contacted you since comparisons of your designs emerged online?
No, and I don't expect them to either. Moschino always claims all copied work as their own and denies all allegations. They also never respond to these allegations unless it's a necessity by law or it is seen to be affecting their personal image.
What message would you like to send to Jeremy Scott and large fashion houses in general?
Why not make a positive change and employ or collaborate with graduates or small designers rather than copying their work? Not only would you do wonders for your own reputation (which is looking rather tarnished) but you would also be helping the next generation of designers.
Instead, you do the opposite and steal from the ones that need help the most. It is beyond shameful. Plagiarism claims are persistently stacking up against you and it's only a matter of time before something more will come from this. So Jeremy, stop being a con man and start being a positive force within the industry.
What can emerging designers do to have their voices heard and protect their designs?
I posted about the plagiarism on Instagram and received a lot of messages from students, graduates, and small designers who had begun to feel unnerved and in fear of their own ideas being stolen after seeing my post. This upset me greatly and it's not something we should live in fear of in this industry.
Unfortunately, I can't offer a solution but I can say that I will have your back amongst a heck of a lot of other people that will not stand for this. Luckily in this day and age, we have the power of social media so even though you are unlikely to receive full justice you can still get exposure. If you are anything like me and hate public upheavals or if you've ever been in my circumstance then you have to speak out not only for yourself but for everyone else that has been affected and could be affected in the future. One thing we won't do is go down without a fight!