What is Indo-Western Fashion?
Fashion is a fast-paced and diverse industry, generating a global annual revenue of $2.5 trillion. Although the pandemic reduced this income by about 30 percent in 2020, it is estimated to recover and regain a positive growth of two to four percent in 2021.
Globalization has allowed for the recognition and integration of fashion cultures around the globe. One such amalgamation is Indo-Western fashion—the fusion of Western and Indian fashion.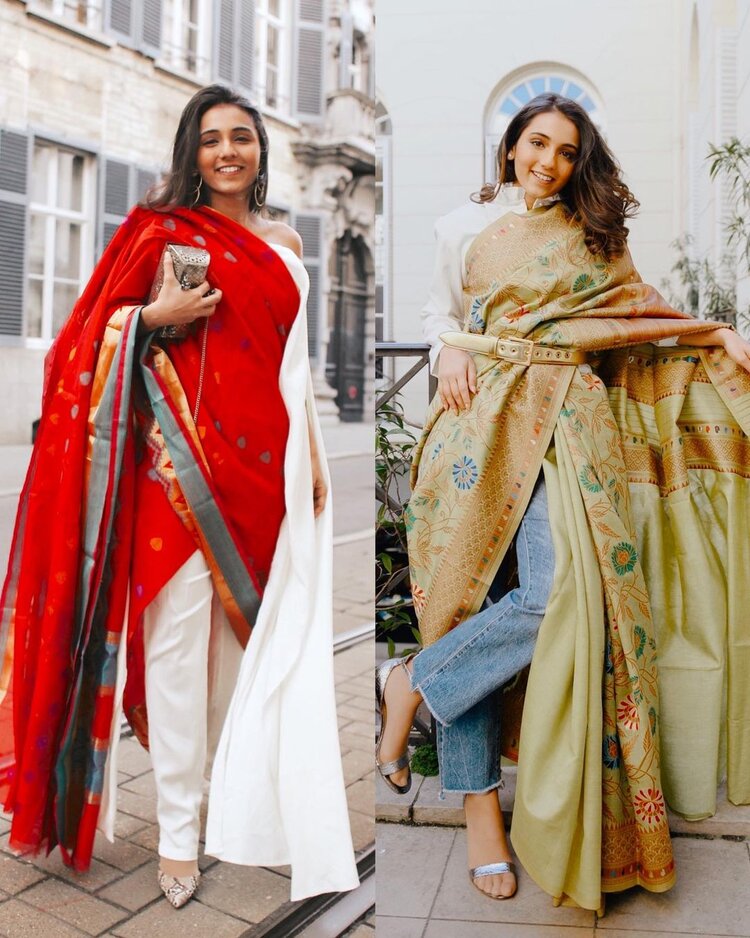 With the increasing popularity and acceptance of western fashion in Indian society, several designers have been blending these two fashion cultures beautifully.
Indo-Western fashion—also known as fusion fashion—celebrates the beauty of both Western and Indian cultures, encouraging creativity outside the realm of geographical boundaries.
Fusion wear can be traced back to the period of colonization when India was colonized by the British empire. Fusion wear is also gaining popularity overseas, with fashion companies in Dubai, UAE, Qatar, and Saudi Arabia steadily expanding their customer base all over the world.
We've also seen the use of ethnic embroidery such as Phulkari from Punjab and mirror work from Rajasthan embedded in western-style garments. More elaborate work features styles like Meenakari, Kundan, Resham, and Zardozi.
Fusion wear is a statement to stand out from the crowd and influencers have successfully played their part in integrating Indo-Western fashion into global societies.
Indo-Western fashion influencers to follow on Instagram.
If you're looking for more inspiration on this style, here are some of our favorite Indo-Western fashion influencers to follow on Instagram.
Komal Pandey
Voted Cosmopolitan's Best Fashion Influencer & Vlogger in 2021, Komal Pandey creates fashion videos, guides, and reels on Instagram that provide endless Indo-Western style inspiration. From dark academia-inspired Indian outfits to outfits inspired by Bollywood characters, Komal makes dressing up fresh, fun, and exciting.
Masoom Minawala
With over one million followers, Masoom Minawala is taking Indian fashion to the world. She was recently recognized by Entrepreneur India as a leading influencer in her field. She frequently supports Indian designers while providing us with Indo-Western style inspiration that we can't get enough of.
Hamel Patel
Hamel is a fashion influencer that has been featured in Cosmopolitan, Harper's Bazaar India, and PopSugar. Her style consists of traditional Indian styles modernized with accessories and sexy silhouettes. Hamel is a stylist and the photos on her feed are often styled and even photographed by herself. Never underestimate a girl with great style and a tripod.
What are your thoughts on Indo-Western fashion? Let us know in the comments if you have a favorite influencer for this style.