How Ben & Jerry Turned a Small Scoop Shop Into an Ice Cream Empire
By: Valeria Ramos
We all know Ben & Jerry's for their flavorful pints of creative ice cream concoctions with clever, now-household names like "Americone Dream" and "Cherry Garcia."
However, even many ice cream enthusiasts are unfamiliar with the humble beginnings of Ben Cohen and Jerry Greenfield—two childhood friends that set out to create an ice cream shop in Burlington, Vermont with one sweet idea and no prior business experience.
How did Ben and Jerry meet?
The duo met in middle school in Long Island, New York, and have been inseparable since, although they briefly went their separate ways for college.
"We were the two slowest, fattest kids in gym class," Cohen joked about how they met.
After graduating high school, Jerry Greenfield studied pre-med at Oberlin College in Ohio, working as an ice cream scooper in his school cafeteria on the side. Meanwhile, Ben Cohen attended a few colleges but dropped out to teach pottery on a farm in New York's Adirondack region, where he practiced his ice cream-making skills.
Cohen and Greenfield later reunited in Saratoga Springs, N.Y., where they talked about venturing into the food business together. The idea was to bring food that was popular in big cities to a sleepy college town.
The humble beginnings of Ben & Jerry's
The location: Once they had decided on the college town of Burlington, Vermont, Cohen, and Greenfield considered selling bagels but, because ice cream equipment was more affordable, Ben & Jerry's Homemade scoop shop opened up in 1978 out of a renovated gas station.
The investment: Without any business experience, Cohen and Greenfield took a $12,000 investment, a $5 course on ice cream making, and gathered career advice as they went along, learning from their mistakes and accomplishments.
Ben & Jerry's vision for their small business:
What makes this start-up story all the more unique is that Cohen and Greenfield didn't set out to create an iconic ice cream brand or even to make a fortune.
In an interview for NPR's "How I Built This" with Guy Raz, Greenfield shared the thought process behind their venture.
"We didn't exactly think of it as a business, we thought of it as a venture. We thought let's do something for a couple of years, and then after we do that, let's do something else. We talked about becoming cross-country truck drivers after we did this ice cream shop," Greenfield said.
In 1979, Ben & Jerry's shop in Burlington was slowly becoming a community favorite for their classic homemade ice cream and unique flavors like Oreo Chocolate Mint and Heathbar Crunch. Cohen and Greenfield celebrated the shop's first shop anniversary with Free Cone Day—a company tradition that continues to this day.
When did Ben & Jerry's start selling pints?
In 1980, two years after their shop opened, Cohen and Greenfield began selling pints of Ben & Jerry's, and the rest is ice cream history.
After TIME Magazine called Ben & Jerry's "the best ice cream in America" in 1981, their first franchise popped up in Shelburne, Vermont, setting the company up for a decade of success.
Throughout the '80s, Ben & Jerry's experience the following growth:
Franchise expansion to 41 shops in 18 states by 1988
Creation of beloved flavors like New York Super Fudge Chunk and Cherry Garcia
$32 million in sales by 1987
Not bad for two guys whose original goal was to make $20,000 a year from their Vermont ice cream shop! The cherry on top of their small-business sundae was being named "U.S. Small Business Persons of the Year" by President Ronald Reagan in 1988.
What makes Ben & Jerry's ice cream unique?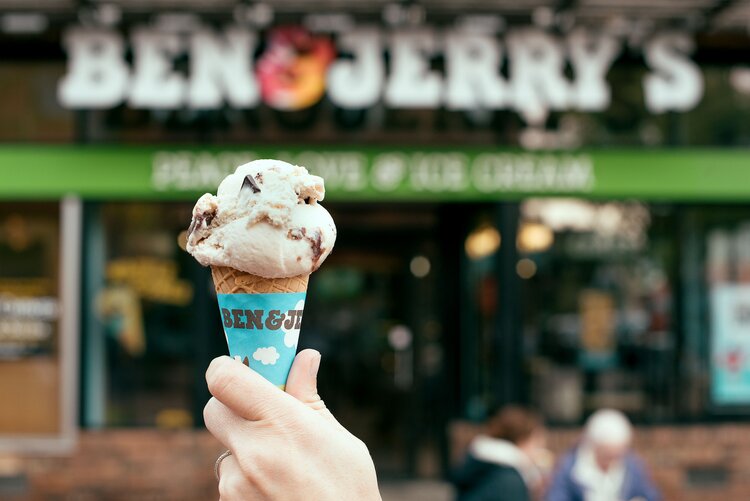 While many factors led to the success of Ben & Jerry's, people and product are the two most important.
Ben & Jerry's creative ice cream flavors immediately set them apart from other pint products on the market. New flavors were invented by Jerry Greenfield, who had a distinct advantage in creating the chunk-filled scoops that Ben & Jerry's is known for.
"I have a very poor sense of smell, it's called anosmia," Greenfield told Raz of NPR. "In some ways not having a sense of smell was a blessing, because I had to rely on other senses that competitors weren't thinking about. They were focusing only on flavor or smell rather than the feel of the ice cream."
From Chunky Monkey to Rainforest Crunch, Ben & Jerry's ice cream is not only beloved for its quirky flavors and pun-driven names but also its commitment to quality.
Their products are Fairtrade and non-GMO, their dairy comes from 'happy cows', their eggs from cage-free hens, and all their brownies are from a bakery committed to providing jobs for the hard-to-employ.
Company growth and change
Although Ben & Jerry's experienced tremendous growth in the 80s, they also met competition, specifically with Häagen-Dazs and their parent company, Pillsbury, who tried to keep B&J out of certain markets. The founders of the then-four-million dollar company faced off with billion-dollar Pillsbury in true hippie fashion.
Ben & Jerry's protest against Pillsbury
"We believed that Pillsbury's actions were illegal, but we knew that in a strictly legal fight, we'd run out of money before Pillsbury would. Our only option was to rely on our customers and the media to pressure Pillsbury into backing off," said Cohen.
"So we started printing the slogan "What's the Doughboy Afraid Of?" on our pint containers, along with an 800 number for the Doughboy Hotline. Everyone who called got a Doughboy Kit, with protest letters addressed to the Federal Trade Commission and the chairman of the Pillsbury board, and a bumper sticker."
Hiring a CEO and selling to Unilever
When 1995 came around, Cohen and Greenfield needed help to keep their booming business running, so they launched the "Yo! I Want to be CEO!" contest, where applicants were told to submit a 100-word essay and the lid of their favorite Ben & Jerry's flavor.
Robert Holland, who was found via a search firm, not the contest, joined the company that year. In 1996, Holland stepped down as CEO and was replaced by Perry Odak, who drove sales to an estimated $175 million.
At the end of another decade, Ben & Jerry's had received interest from many companies looking to buy the Vermont-born ice cream company with wacky flavors and fans across the country. In 2000, Ben & Jerry's was purchased by international food giant Unilever for $326 million.
Ben & Jerry's social mission
Although the founders no longer have an operational role in the company, the company's Board of Directors oversees its social mission, which has become a trademark of Ben & Jerry's brand.
"It's amazing to the degree that the company continues to be outspoken about progressive issues and progressive values," Greenfield said.
2020 has seen a wave of giant companies become vocal about social justice issues, but Ben & Jerry's has been active in this area since its inception. They continue to advocate for racial justice, democracy, climate change, LGBTQ equality, and more.
The energy used to mine bitcoin every 60 seconds would be enough to power the average American household for 17 years. Its impact on the climate is on par with beef production or the crude oil industry. There has to be a better way. Learn more: https://t.co/qRwt97R8RX pic.twitter.com/6Xe0dQJWgN

— Ben & Jerry's (@benandjerrys) February 15, 2023
Ben & Jerry Today: A Lasting Legacy
While Cohen and Greenfield's small scoop shop has transformed into a giant company with a path of its own, its roots remain in Burlington, where two anti-establishment hippies began selling ice cream on a whim.
"Ben & Jerry's having this activist, outspoken social mission — other companies can't copy that," Greenfield said to the New York Times. "It's not something you can just say. It has to be who the people are."
The two founders, now 72, continue working with Ben & Jerry's to promote the company's social justice campaigns and hang out regularly, often over a pint of their own creation.
"We both still eat a lot of ice cream," Greenfield said.