Miuccia Prada: From Small, Family Business to Luxury Giant
By: Beverly Abellanosa
Throughout the years, Prada has been synonymous with luxury. While today we recognize Prada as one of the most influential fashion houses in history, there was a time when this name simply belonged to a quaint leather goods shop in Italy.
"What you wear is how you present yourself to the world, especially today, when human contact goes by so fast. Fashion is instant language." – Miuccia Prada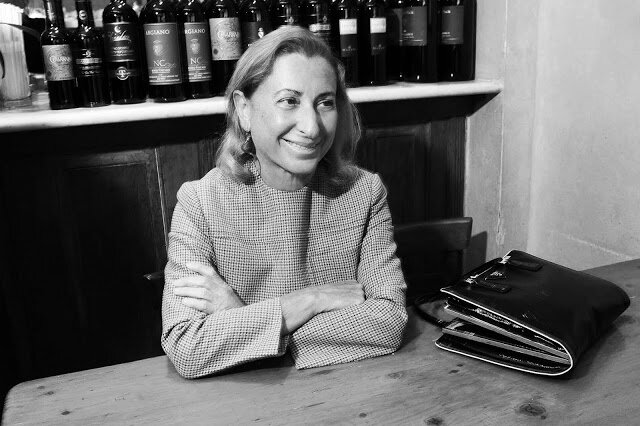 At its founding, the shop specialized in leather goods and imported English steamer trunks. Mario Prada, the brand's founder, did not believe that women should be involved in the business. However, his son had no interest in running the company, so his daughter, Luisa, succeeded him and ran Prada for almost twenty years. Luisa's daughter, Maria (a.k.a Miuccia), then joined the company in 1970 and succeeded her mother in 1978. 
Maria Brianchi was born to parents Luisa Prada and Luigi Brianchi on May 10, 1949, in Milan, Italy. She took the name Miuccia Prada after being adopted by an aunt in the 80's. Prada attended the Liceo Classico Berchet high school in Milan and graduated from the University of Milan with a Ph.D. in political science. Miuccia then trained to become a mime at the Teatro Piccolo and performed for five years. Additionally, she was a member of the Italian Communist Party and was involved in Milan's women's rights movement during the '70s.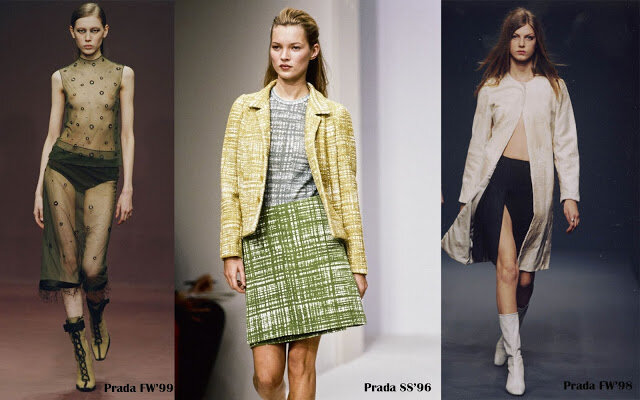 Miuccia Prada's first successful handbag design was in 1984. The line consisted of black handbags made of woven nylon, which became an overnight sensation and were referred to as "the classic Prada handbag."
By 1989, Prada had designed her first women's ready-to-wear collection, which was noticed for the dropped waistlines and narrow belts. Prada designs were greatly praised for their rich fabrics, clean lines, and basic colors. In 1992, the brand Miu Miu (named after Miuccia's nickname) was launched. Miu Miu aimed to offer customers a less expensive womenswear line inspired by Miuccia's wardrobe.
Prada's work growing her family's company into a globally recognized brand has not gone unnoticed throughout her years in the industry. In 1993, Miuccia Prada was awarded the CFDA international award for accessories.
In 2013, she was awarded the first International Designer of the Year award at the British Fashion Awards and, a year later, in 2014, was listed by Forbes as the 75th most powerful woman in the world. Today, Prada is the co-CEO of the luxury fashion house along with her husband, Patrizio Bertelli.