Here's How to Properly Wash Your Bras
By: Halle Rossi
Let's talk about how to properly care for your prettiest fabrics—the ones under your clothes! Bras are not cheap, so you shouldn't be treating them like they are. Undergarments need to be taken care of in a special way so that you don't have to purchase a new one just as fast as you just got the last one.
This means more time than simply throwing them in with the wash and popping a Tide Pod in. So what's the proper way? Here are two methods to keep your delicates looking and feeling new.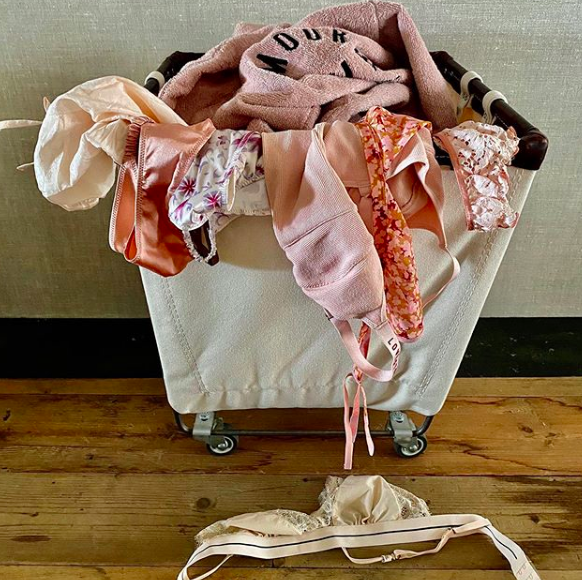 Method 1: Hand-washing
Yes, I said it – hand-washing. Technology has gotten us this far with washers and dryers, but using hands to clean intimate clothing is the best way to go.
First, you'll need either a wash bucket, sink, or bathtub filled with cool water (using a sink or placing a wash bucket on a counter will be easier on your back).
Second, you'll need a proper detergent for the care of your bras, which means one sans alcohol or bleach.
Third, let the bra soak in the water/detergent mixture for about an hour, and take this time to pour a glass of wine and watch your favorite Netflix show.
When the hour is up, return to your bras and gently rub them with your hands to work in the detergent to get rid of the days/weeks (months?) of use you've given them.
Finally, rinse the bra until the water runs clear and gently squeeze out any excess – NEVER wring! To dry, lay the bra flat on a towel and press to make sure as much water is out of the bra as possible then hang dry. This could mean on a hanger or even around your shower rack.
Method 2: Gentle, cold wash
While hand-washing is your safest, most protective bet – some of us just can't take the time. So, yes, you can wash your bras in the washing machine, but still under a strict procedure.
Just like with hand-washing, you'll need to set the machine on a cold water setting and grab a detergent free of alcohol and bleach. Hook the back of the bra and place it in a mesh or lingerie bag, and turn the machine on its most gentle cycle. When done, towel press and hang dry to keep them from losing their shape.
So how often do you need to do this? The bra gods say to wash after 2-3 uses…which can make owning lingerie an even bigger burden than you bargained for. To avoid washing a different bra every week, try wearing a different bra each day, and when you've got one left, wash the ones you've worn in one sitting! This gives you the ability to start with plenty of clean bras for your coming week while not having to worry about rushing to wash one in a way that could be damaging. Happy washing!