Glossier's Content Manager on Navigating Social Media in the Beauty Industry
By: Lauryn Jiles
Utibe Mbagwu landed her role at Glossier after interning for the beauty brand in college. The NYC-based manager served as an Editorial Intern for Glossier's sister publication, Into The Gloss, while studying at New York University.
After landing her internship, Mbagwu accepted a full-time position as a Social Media Editor and now works as a Content Associate Manager, working across both Glossier and Into The Gloss social media channels to coordinate posts for an audience of over three million followers.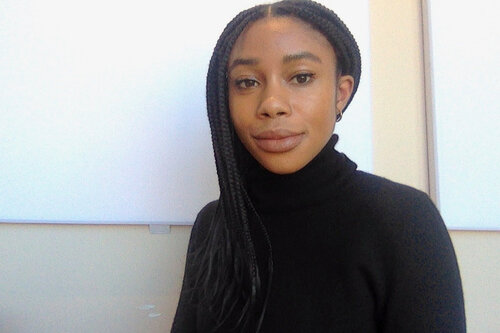 Known for aesthetically pleasing packaging and barely-there makeup looks, Glossier was launched in 2014 by CEO Emily Weiss, after the success of her beauty website, Into The Gloss. Since then, the brand has expanded with products in skincare, beauty, body, and fragrance.
In a recent campaign, Glossier teamed up with the women of the WNBA for their body hero campaign to promote self-love and discuss beauty standards. The campaign featured women using products like the Exfoliating Bar and the Oil Mist, which are part of the Body Hero Collection.
In an exclusive interview, we spoke to Mbagwu about her role at Glossier, navigating social media as a Black woman, and her best beauty and skincare tips.
What is an average day at Glossier like?
Most days I'm looking around at each [social media] channel, doing more administrative tasks, and making sure content is scheduled and going up. There's a lot of coordinating for future campaigns, planning for collaborations, and brainstorming content for Instagram, Twitter, and Facebook. There are everyday managerial tasks and making sure things are going live, but also thinking towards the future and looking at ways we can innovate our storytelling.
What are the best and most challenging aspects of your job?
The best part is getting face-to-face with our community of super-engaged customers, followers, fans, and friends of the brand. It's incredible to see how people interact with the brand and really make it their own. The aspect that isn't the greatest is having to be on social media all the time. I have so many accounts that I oversee, which can be a lot and I have to be diligent about putting my phone down. However, my job is exciting and allows me to be creative so that makes up for it!
How do you determine what to post on Glossier's social channels?
When working in social media, you're not working in a silo. It's one level of marketing, which means we're working with our brand team, our creative team, and our product development team to craft the messages and prioritize the images and content we want to share with our community. It's very much a team effort. We figure out ways to include content that entices our followers, promotes conversation, and deepens the storytelling around products.
During your job search, what made Glossier stand out to you as a place you wanted to work?
I'm a very visual person, so the imagery and visual messaging of the brand stood out to me. The people in Glossier ads looked like people that I knew and they used skincare products in ways that I recognized. At Glossier, we make very beautiful images that look different in the beauty industry. Beauty used to be about high impact really produced looks that were super polished and not something that you could execute on your own without a professional. Glossier's look and feel are very down to earth. It was something that I could and wanted to aspire to.
What are some ways you find downtime from social media?
I have an app on my phone that blacklists all my extra apps that aren't native to IOS, so I can shut off apps like Instagram for up to 24 hours. I take advantage of that when I can and block off time to read, watch movies, and hang out with my friends and my girlfriend. I also love listening to music and looking for art to fill my new apartment with. I live in Bed-Stuy, Brooklyn so there's always stuff to do, even during this time, it's nice to walk around and explore.
What was it like navigating social media during the protests and conversations about race earlier this year?
As a Black woman managing social media channels, all of the images and videos being shared really took a toll on me, especially as I was unable to turn it off or ignore it. I'm lucky that I work at a place where people listen to my concerns. I actually wrote an article about managing social media during this time and how I relished a virtual care package my friend sent me, which was basically a bunch of links about things that we both love, and how that was such a comfort.
I created a graphic about how to share posts responsibly because I found that people were re-sharing social media posts that were either inaccurate or super graphic and weren't helping the causes being amplified at that time. The graphic is a part of a platform I'm working on called Go Behind the Screens, which features content editors of color. I shared it on my Instagram with my coworkers and people in my community because if everyone could just be a little bit more discerning, we can get more information to the people who really need it.
Do you have a favorite article you've written for Into the Gloss?
I recently wrote an article about my favorite 90's muses that I really liked, which I was kind of reluctant to write because I feel like people talk about the 90s so much, but people resonated with it and I'm happy they did. I wrote another article about single eyeshadows, and how they're like the baseball cards of the makeup world.
Another one was about a beauty look I was influenced to try because I saw so many people in my world wearing cornrows and I had never tried the look before and now I wear it all the time. Because I manage our Instagram account, I'm able to poll our community about products they love. Once, I asked them what their favorite product of the year was and I compiled all the responses into an article.
What are valuable lessons you've learned working in the editorial and beauty industries?
Always triple-check everything and don't be afraid to try new things and experiment. Get as many perspectives as possible by talking to people who aren't well versed in social media and those who are. You can have your own ideas about how things work, but you need to ensure that your audience understands the content that you're putting out and that it's meaningful to them.
Always look for what is trending, what people are talking about, and figure out how to leverage that to your own channel because being timely is next to godliness in social media. It's important to learn how to use social media and be a part of the space in a healthy way. When you work in social media, you can sometimes fall prey to the downsides of it a lot more than other people may, so it's really important to make sure you're taking care of yourself.
What advice can you share with people pursuing a career in the beauty industry?
Figure out a way to make yourself different, whether it's by starting a beauty blog or an Instagram account where you review products in interesting ways. The industry is becoming more competitive and ideally, your path to getting in the door is finding an internship and then coming on full-time. The most foolproof way to do that is by having something on your portfolio that makes you stand out.
Be knowledgeable about the space you want to be in and make a case as to why you should be part of it. If you want to become a beauty writer, you should not only be knowledgeable about beauty, but you should also be a good writer. As we like to say at Glossier, "Beauty is a conduit for connection." It's another way to relate to and find common ground with the people around you.