Existing While Muslim: Feminism is Not Binary
By: Namra Khan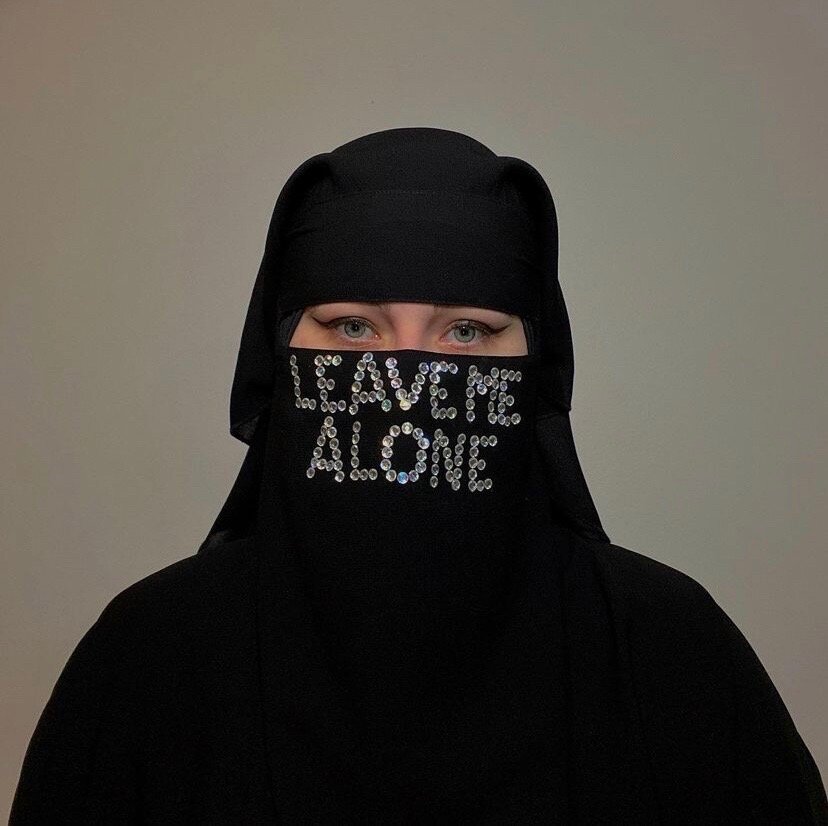 From banning headscarves in Belgian universities to banning burkas and niqabs in Switzerland, France's Separatist Bill is the newest law to control women's bodies in the name of 'liberalism.'
The bill, which was approved by the Senate in April, outlines that no girl under the age of 18 can wear the hijab in public and that Muslim mothers wearing hijabs are prohibited from going on school field trips with their children.
While the law claims it bans all religious head coverings, it's hard to believe France isn't targeting Muslim women when French President Emmanuel Macron has claimed that "Islam is a religion experiencing crisis" and that the law tackles "Islamic separatism."
Given France's history of colonizing Muslim majority countries, Islamophobia is unfortunately embedded in its culture and politics.
The French Separatist Bill
The bill aims to stomp out "radical Islamism," but has instead reinforced negative religious stereotypes, further harming French Muslims. As a hijab-wearer myself, I take deep offense to the vernacular we're using to describe a religion practiced by 24% of the globe, making it the world's second-largest religion.
The term radical Islam is deeply problematic as it implies that 'radical Islam' is a branch of Islam on its own (we don't say radical Christianity do we?). We also hear the phrase moderate Muslim. The existence of this phrase implies that to be a fully practicing Muslim is to be an extremist. This attack on Islamic ideology implies that Islamic teachings and theory are somehow violent.
In President Macron's eyes, he is protecting France—a country with the largest Muslim population in Europe—from Muslims. He is right to be concerned about extremism in France, but his words and actions seem to be blaming the acts of terrorists on a whole religion. Perhaps a better way to tackle violence is to focus on decreasing poverty and increasing education in low-income French communities, uniting the country under one shared vision, rather than stripping away the freedom of dress from Muslim women.
The fight to control women's bodies
Muslim women who choose to dress modestly feel a sense of control and agency over the way their bodies are perceived by others. For myself and others, wearing a headscarf, niqab, or burqa is a source of confidence and strength in addition to a symbol of religious devotion. Stripping women of their right to cover is no different than forcing women to cover their bodies—both actions infringe upon their rights.
Since the 18th and 19th centuries, Western feminism has cultivated the idea of liberation from modest clothing being the way of progress while pushing aside the importance of choice. This is why Western countries are often trying to control Muslim women to fit into their idea of liberalism and how women should dress.
We are witnessing a pattern of laws claiming to ban all face coverings and head coverings, yet seemingly only being applied to Muslims. These laws are justified and amplified through anti-Muslim rhetoric—in other words, there seems to be a lack of enforcement when it comes to other coverings, like those of Catholic nuns, Orthodox Jews, or even Covid-era precautions. Some may argue that the laws are meant to be applied equally, but not overtly mentioning the terms 'Islam' or 'Muslim' in a legal document doesn't put these laws in the clear, the rhetoric of the politicians supporting them sends a more targeted message.
For instance, according to Walter Wobmann, chairman of the referendum committee and a member of parliament for the Swiss People's Party, the Swiss Burqa ban does its intended job. He affirmed this in a statement, saying that "facial covering is a symbol for this extreme, political Islam which has become increasingly prominent in Europe and which has no place in Switzerland." The hypocrisy of this law is crystal clear in a time when the whole world is wearing a facial covering to protect themselves, but a problem only arises when a Muslim woman chooses to wear one as part of her identity.
On feminism and Islam
The main thing people need to take away from this is that feminism isn't binary. Liberation looks different for everyone so we shouldn't invalidate how some women choose to empower themselves just because it doesn't align with your own choices. From Switzerland to France, and Belgium to Denmark— there is no need to enlighten Muslim women from Islam—a faith that earned them the right to vote, own property and wealth, receive an education, and work 1400 years before the western world.
We don't need to look any further than our backyard to witness Muslim women thriving not despite their faith, but proudly alongside it. From the founder of the oldest university in the world, Fatima Al-Fihri, to the politician Ilhan Omar, and the Olympic Gold Medalist Ibtihaj Muhammad, to countless others, Muslim women don't need to be liberated, their religious choice doesn't limit them, it empowers them.