Everything You Need to Know About 'Ice Cream,' Blackpink's Collab With Selena Gomez
The South Korean girl group Blackpink announced their collab with Selena Gomez on August 12th, after weeks of speculation from their fans. Having made a comeback with How You Like That in July, Ice Cream is the second single off their upcoming full album, named 'The Album', expected for October 2nd.
Since the measures taken due to COVID-19 made it impossible for them to meet and film the music video together, the first teaser video for the song featured the four girls and Selena on a video call, giving the fans a first taste of what was about to come.
On the following days, Blackpink's company shared the promotional posters for the single. Selena got her own poster as well, making her the first occidental woman to be featured on a KPop photo teaser. She also earned compliments from Korean netizens on her looks. Moreover, the crochet outfits that Jisoo, Jennie, Rosé, and Lisa wore on the photo teasers and the music video are from Shopfluffy, a small brand from Indonesia that aims to raise money for the Black Lives Matter movement. Many fans applauded the choice to support small businesses and not rely on big names.
The song was released on August 28th at 1 pm KST. A few days prior, it was revealed as well that Ariana Grande participated in the writing of the lyrics, hence the big parts of the song that are in English. With big names such as Ariana Grande, Selena Gomez, Teddy Park, and Victoria Monét participating in the writing, the song came out as a mixture of lyrics in English and rap in Korean with a catchy summer vibe. Blackpink is known for its 'girl crush' concepts, but on Ice Cream, they're embracing the cute concept in a way they hadn't done since As If It's Your Last in 2017.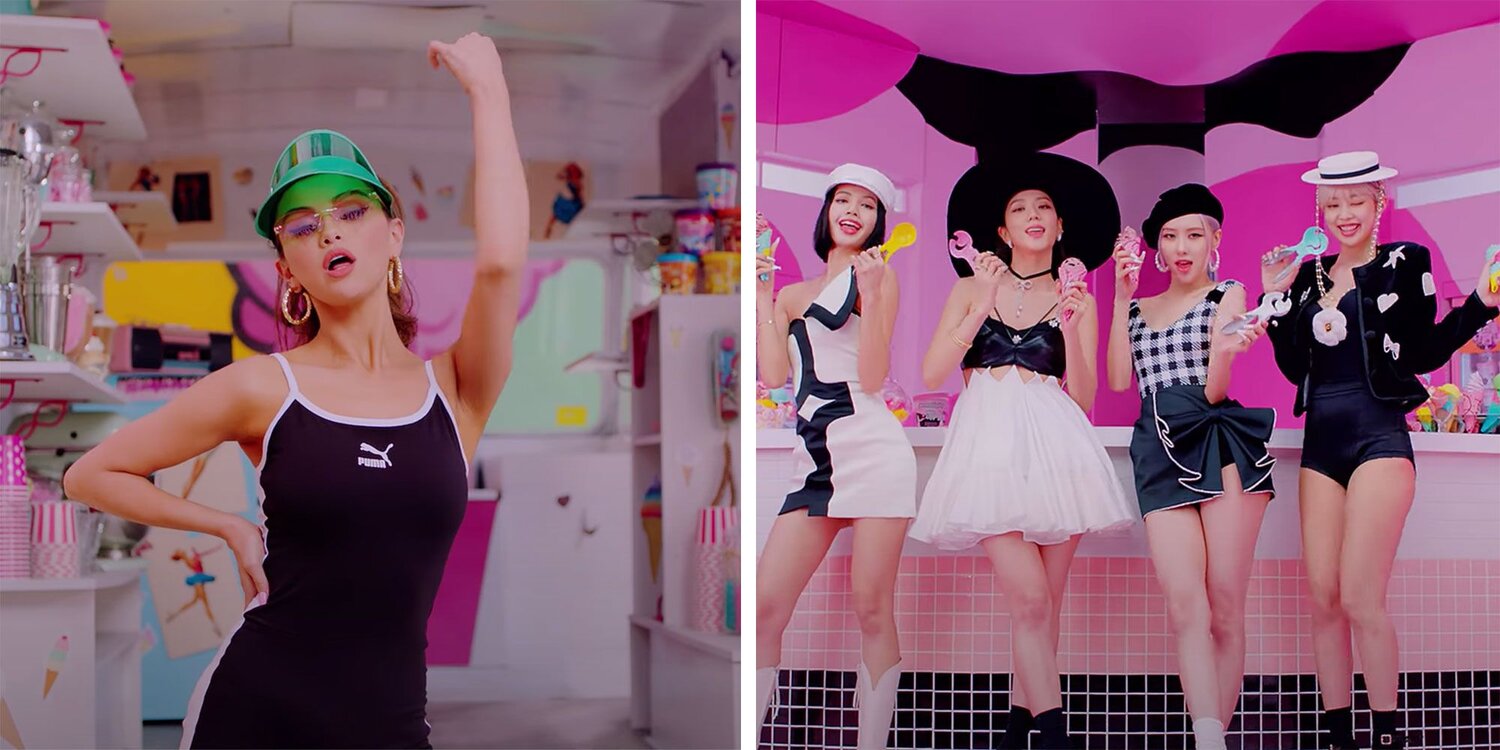 Barely an hour after the release of the song and the music video, 'Ice Cream' has achieved its first major acknowledgment: it has amounted to more than 300.000 units sold on the Chinese platform QQ Music and received both triple golden disc and platinum. Globally, the song has surpassed 500.000 copies sold, becoming the fastest girl group single to do so. But the achievements don't stop here: the Youtube video gained 1 million likes on barely 34 minutes, making 'Ice Cream' the fastest collaboration ever to do so.