A Guide to Dressing Like The Dutch
Many countries around the world are famous for their stylish women. French girls are idolized for their nonchalant elegance, South Koreans for their mastery of street style, Italians for their sophistication. We don't often hear about how Dutch women dress, with many people only recognizing the Netherlands for its tulips, windmills, and relaxed laws regarding cannabis and prostitution.
But if you have not been lucky enough to watch the messy-haired girls in ankle-grazing trench coats ride their bikes from a sidewalk cafe in Amsterdam, Den Haag, or Utrecht, you are missing out on some of the best style inspiration in the world. In this article, you will find the best tips on mastering the art of 'doe maar normaal' without looking boring, courtesy of the most stylish Dutch nationals out there.
'Doe Marr Normaal' – 'Just act natural'
The concept of doing 'normal' is ingrained in Dutch culture. Community is considered the glue that holds the country together, building a society that works for everyone. This phrase is also often associated with Dutch style, and in this case, could be likened to the French mantra, 'au naturel.' However, many people confuse this obsession with being natural as being synonymous with not going over the top and suggesting that everybody should be and dress the same. That is not the case at all. What we really mean by being 'normal' or 'natural' is doing what feels most comfortable to you. In the Netherlands, there is no right or wrong way to dress, it just happens to be the case that the majority of women favor the natural look in a more literal sense.
Comfort over style
Women are often asked to choose between two options – looking good or feeling comfortable. Few of us can pull off the in-between as effortlessly as the Dutch do, as women in the Netherlands have learned how to have their cake and eat it too in this area. This is mainly because biking and walking are the easiest and most common ways of getting about in Dutch cities, and even in the capital city, the ground is uneven (Amsterdam is built on top of what is essentially marshland), making it impossible to hobble about in heels all day. Dutch women have learned how to balance style and comfort it is close to an art form, and they are famous for their love for practicality – For example, instead of an unattractive cougall, Dutch girls will opt for a stylish trench coat to deal with the almost permanent rainfall. Instead of an awkward pencil skirt which makes getting off their bikes an awkward affair, they wear a stylish pair of cigarette trousers.
So, now you have the philosophy behind Dressing like the Dutch, here are some quickfire staples to adopt to start stealing their style.
Neutral tones
Dutch women are having a love affair with neutrals, particularly white, beige, camel, and grey as of 2020. Make like model Vera Van Erp and try a full monochrome look for ultimate Dutch coolness.
Orange is the new black
The one color the Dutch love as much as their neutral tones is orange. The national color of the country, the national Dutch football anthem is 'wij houden van oranje' – literally 'we love orange.' This may not be an everyday choice, but even the Queen of the Netherlands enjoys a hint of orange now and again.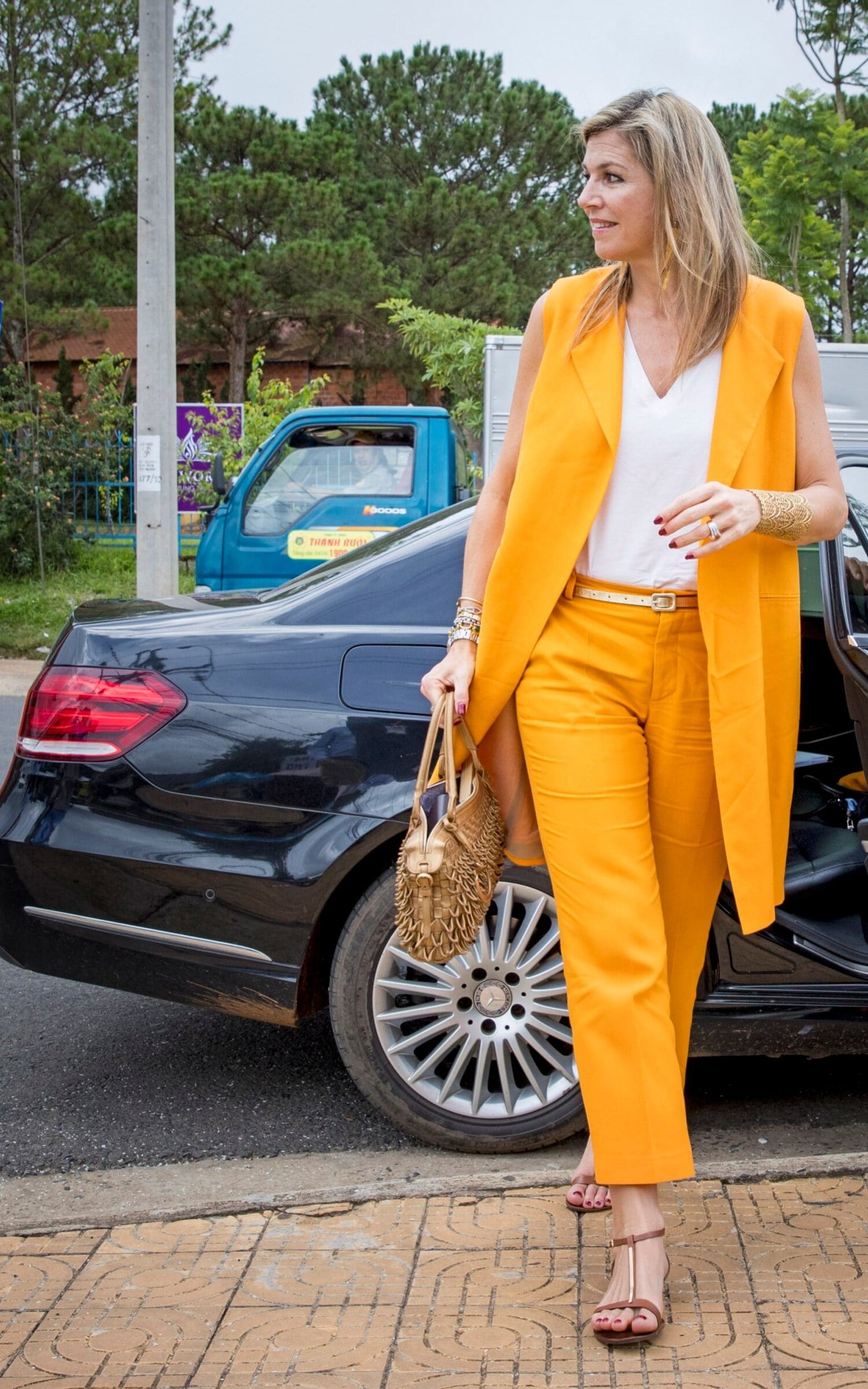 The masculine silhouette
A timeless classic, the masculine silhouette never goes out of style, particularly on the streets of the Netherlands. Look around the streets of Amsterdam, and within seconds you'll spot a tall woman in a blazer and cigarette trousers. What makes this even better? The woman who popularised tailored trousers in the 1950s, Audrey Hepburn, was half-Dutch.
Gold jewelry
Gold jewelry isn't used so much as an accessory by Dutch girls but as a style weapon. As they mostly prefer bare faces, effortlessly messy hair, and simple, understated clothes, women in the Netherlands use gold jewelry, particularly earrings and rings, to pep up their look. For the ultimate Dutch girl look, wear multiple gold hoops on each ear, and make sure the majority of your fingers have a statement piece on them. And an extra tip – Amsterdam-based brand Primrose Jewelry has an excellent range of gold pieces.
The statement coat
The Netherlands is an extremely rainy country, but that doesn't stop the girls from looking as fashionable as ever. Dutch women utilize coats as an accessory themselves, another way to spice up a simple look underneath. Whether it's a stylish trench, as is favored by women in Amsterdam, or a classic biker jacket, Dutch girls do coats better than anyone.