The Best Travel Destinations for Architecture Lovers
By: Ashley Hajimirsadeghi
One of the most exciting characteristics of visiting a new place is being surrounded by distinct and historic architecture, from the pinks and pastels of Caribbean homes to the traditional pagodas of Japan. For those devoted architecture fans out there, we've compiled a list of places to visit known for gorgeous designs and breathtaking architecture to feast your eyes and your camera on
Here are six of the best travel destinations for architecture lovers:
Morocco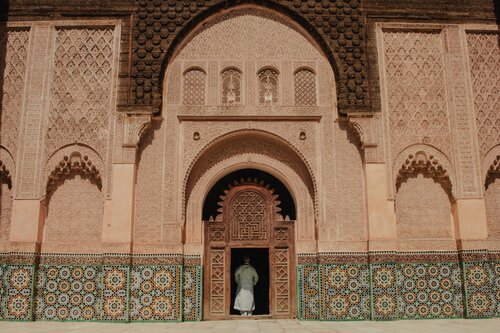 If you've been on a travel blogger's Instagram in the past decade, you've surely seen a glimpse of the beautiful blue city in Morocco called Chefchaouen. However, Moroccan architecture throughout the country is stunning, with a mix of Islamic, African, and European influences. Riads, or traditional Moroccan homes, are designed to have lush gardens and fountains in the center of the home, creating an extravagant atmosphere that is incredibly aesthetically pleasing.
Saint Petersburg, Russia
Historically, Saint Petersburg has been a cultural icon of the powerful Russian Empire, which fell in 1917. When the Russian royal family, the Romanovs presided over the empire, St. Petersburg was the capital and cultural hub of Russia, which is apparent in how the city was designed. Here you can find an eclectic mix of Baroque-style buildings built in the 18th and 19th centuries and Soviet-style buildings from the rise of the USSR. In the heart of old Russia, different styles of art and architecture come together to greet passersby as they walk down the streets.
Istanbul, Turkey
Nestled between the Islamic World and Europe, Turkey is a fascinating country to visit, specifically the major city of Istanbul. Istanbul is an ancient city, one that was previously the capital of the Ottoman Empire. This rich history extends to nearly every building scattered all throughout the city. The Hagia Sophia, both a mosque and church (there is an entire debate and historical conflict about what exactly it should be), was founded in 537 AD and still is used for religious functions. In no other city in the world can we find such elaborate palaces, mosques, churches, and medieval fortresses all within a 20-mile radius.
Cambodia
When we think about architecture and traveling, Cambodia is a wildly underrated gem. While many people recognize Angkor Wat–a massive religious temple built in a classical Khmer architectural style–there's much more Cambodia has to offer. Tonlé Sap, for example, is the largest lake in Southeast Asia—one that is currently under threat due to the environmental changes of global warming—and is home to large floating villages. You can also visit the Royal Palace that was once home to the royal family during their trip to Cambodia.
Iran
Now, if you're a Westerner trying to get into Iran, this will be a trickier place to visit. But trust me—it'll be totally worth it. Iran is a very historical place to visit, especially in regards to architecture, as the Persians love geometry, especially on walls and ceilings. Often, as seen in the picture here, the triangles will be blues, whites, and yellows, creating a stained glass effect to gaze up into. Turquoise is the national stone of Iran, and you'll see this devotion to the shade all over buildings, rings, and clothing. Visit sacred cities like Esfahan and Shiraz for sights you'll remember for the rest of your life.
Brazil
Brazil is a treat for the eyes. Under colonial rule, Brazilian architecture was deeply rooted in European influence, but then the Brazilians, as they reclaimed their independence, began to morph design into something uniquely theirs. Brasília, the capital of the nation, is the perfect example of this. They commissioned Brazilian architect Oscar Niemeyer to design a completely new city, one reminiscent of a white, clean-cut utopia. Pair this was beautiful beaches, vibrant music, and delicious food, and you'll understand the magic of Brazil.