Charlee Fraser is Giving Aboriginality a Name on the Runway
By: Valeria Ramos
With a total of 50 shows walked in one season alone, Charlee Fraser is no longer an unknown name in the fashion world. Leading the current "Runway List" on models.com, Fraser is here to stay as a casting regular.
What makes Fraser so special is not just her stunning looks, but also her role in increasing the diversity of the modeling industry. Due to her Awabakal roots, Fraser is the first Australian model with an aboriginal ancestry to reach the status of an international model, gracing two Vogue covers already, both of which were September issues.
Involved in several Indigenous school activities and community events from a young age, Fraser has "always identified as Indigenous Australian" and shares that these experiences positively impacted her. "This allowed me to learn about my heritage and find pride in my Aboriginality," she shared.
Fraser also opened up about the significance of representing her aboriginal roots throughout her career. "I don't have words to describe the amount of gratitude and appreciation I have for everyone in my life," she said. "Being one of the first (if not the first) to represent my heritage on an international level blows my mind."
So where did Fraser's career start? Well, like the majority of models, she'd been working for a while before her first big break, which came during the Fall/Winter 2016 season when she walked the Alexander Wang show as a semi-exclusive.
The Wang show not only marked a change in Fraser's career but a change in her appearance as well. The distinct bob she's sporting now didn't come with her from Australia but was created by distinguished hairstylist Guido Palau, exclusively for the show.
While her hair was being chopped, she revealed what was going through her mind. "I thought 'Okay, this is for Alexander Wang, this is for my career, it's going to be an amazing show. If they cut my hair, I'm definitely [walking]; it's not something that they're going to do and then a second later take you [out of the lineup].'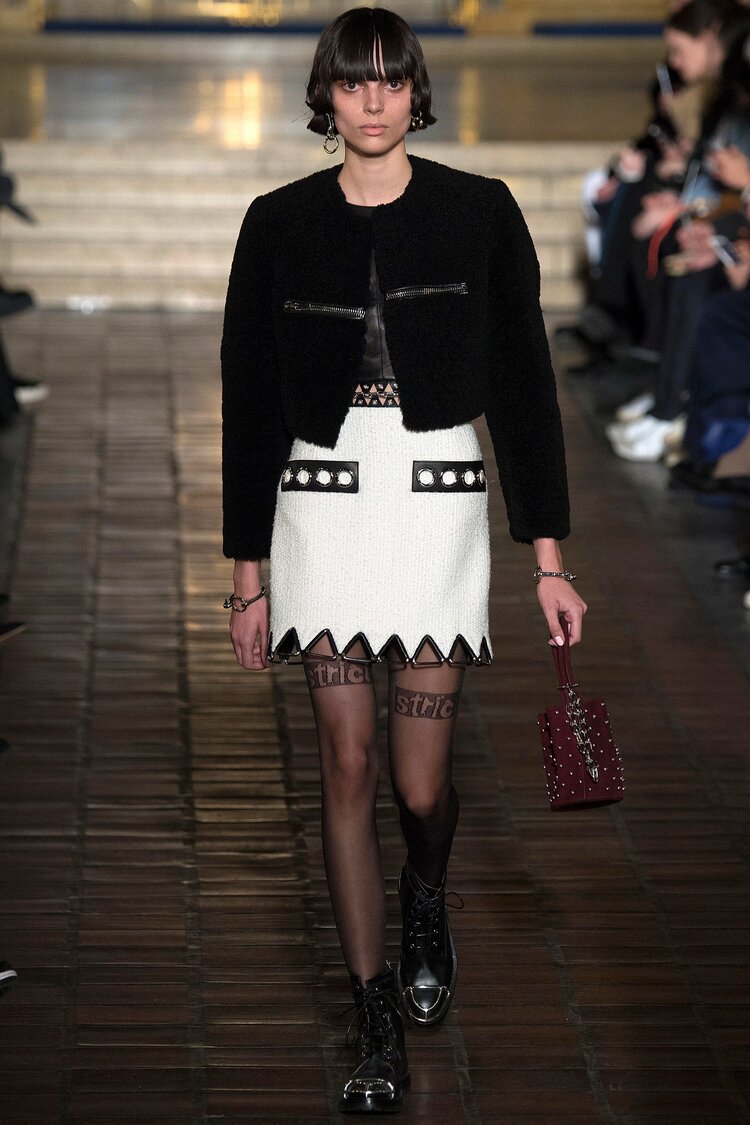 Now it seems like Fraser has been sporting the bob her whole life. Add her captivating brown eyes and Aussie accent to that, and she's even harder to miss.
The former business and beauty student was also one of the "81 Fashion Celebrities" who participated in the "I Am An Immigrant" video for W Magazine, along with big names like Natalia Vodianova and Mica Argañaraz. Fraser has since landed campaigns for Giorgio Armani, Céline, Brandon Maxwell, and Stella McCartney.
Although Fraser's ranking on models.com "Social-Instagram" category isn't record-breaking, during London Fashion Week in 2017, she became the model with the highest increase in followers, according to Instagram.
While we hope to see Fraser's following grow to the millions, we can't help but question whether she really needs it. Fraser is making a name for herself in the industry on her own merits. The growth of her career is reminiscent of supermodels from the past and we look forward to watching her grace many more covers and campaigns.