Breaking Down the Parisian Aesthetic
The streets of Paris are filled with style inspiration and muses. When we think of Paris fashion, we think of berets, minimal makeup, designer bags, and dainty gold jewelry.
French women carry a minimalist style philosophy from their hair down to their shoes. Style icons like Vanessa Paradis and Marion Cotillard are just a few of the many French women who capture the laid-back yet sophisticated look of their land.
The Parisian aesthetic has gone well beyond fashion and translated onto social media feeds in a way that is recognized for minimalist and elegant images.
Known as the fashion capital of the world, Paris is home to iconic fashion designers like Coco Chanel, Jean-Paul Gaultier, and Simon Porte Jacquemus. These are just a few of the French designers who pioneered the unique style we now associate with all things Parisian.
Aside from the wondrous fashion statements, Paris is cherished and romanticized for its historic architecture, quaint cafes, and delicious cuisine that captivate people all around the world.
Why is it so popular?
Parisian style is based on simplicity and capturing the essence of Paris itself. On social media, this aesthetic is captured with minimal edits and neutral tones with the occasional pop of color or two.
The best inspiration when it comes to capturing this effortless style is through Instagram's favorite Parisian It-Girls. Women like Gabrielle Caunesil, Jeanne Damas, and Chloe LeCareux are well-loved by millions of followers for their feed of chic outfits, sunlit cafes, and overall "je ne sais quoi." Although minimal, their style speaks louder than words, showcasing what Parisian style is all about.
While this style may seem easy to reproduce, making a fashion statement while being a minimalist requires a particular style-savviness; think of it as a kind of art. The fashion scene in Paris has inspired people around the world for ages, and with the world now at our fingertips, social media has given us all the power to study and be inspired by different styles on a deeper level.
Incorporating Parisian style
If the simple, yet elegant, aesthetic of Paris resonates with you, why not try incorporating it into your style and IG feed? Adopting a Parisian style is all about finding the right wardrobe staples and accessories that make you feel confident and très chic.
Creating the right color palette is essential and while you don't have to dress in all white and beige to be chic, finding a balance in the colors you wear is key. Wear what you love and keep it simple, that is the Parisian way.
Whether you're into purchasing trendy items or shopping second-hand, there is no right or wrong when it comes to finding your version of Parisian style. Here are just a few ideas to inspire you.
Layouts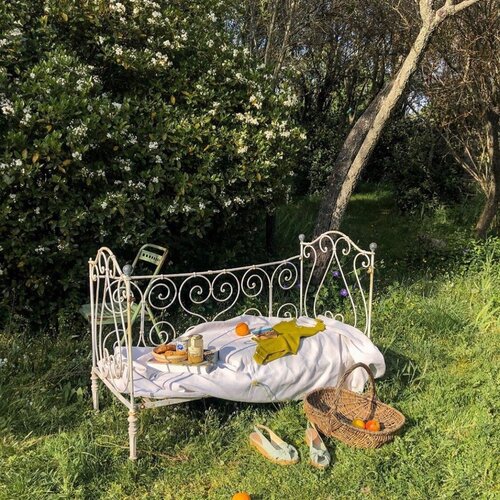 Parisian style is all about keeping things natural and minimal. This concept not only relates to fashion but also everyday items. From food and flower pics to landscape and furniture shots, filling your feed with visually pleasing moments will give your followers the aesthetic inspiration they didn't know they were missing.
Style tips
Parisian style is associated with elegance, which is why basics are essential in the Parisian girl's wardrobe. From a classic pair of jeans to timeless tops, sustainable fashion choices are the way to go. Other staples we recommend include sheer tops, relaxed silhouettes in neutral tones, and anything tweed!
Those influenced by the Parisian look can add their twist to the style from streetwear and chic to boho or casual. That is the beauty of fashion – everything is up to an individual's preference and interpretation. The most important key to styling is to have fun!