Baldwin's Tailoring Shop in Philly Rebuilds After Lootings
By: Valeria Ramos
In the bustling, ever-changing city of Philadelphia, few small businesses can stand the test of time. Baldwin's Fine Custom Tailoring on historic Fabric Row is one of them. 
Since 1988, master tailor Larnell Baldwin has been a cornerstone in the Philly fashion scene. In addition to selling fabrics and fine-tailored goods, Baldwin mentors thousands of designers who attend his Fashion Institute to learn from his 40 years of expertise.
On May 30, 2020, Baldwin's store was looted following protests surrounding the murder of George Floyd. In the weeks following this event, Baldwin's son and one of his former design students helped raise over $30,000 on GoFundMe to rebuild Baldwin's business. 
We spoke to Mr. Larnell Baldwin and his son, Christopher Baldwin, to learn more about the history of his business and how they plan to rebuild and return stronger than ever.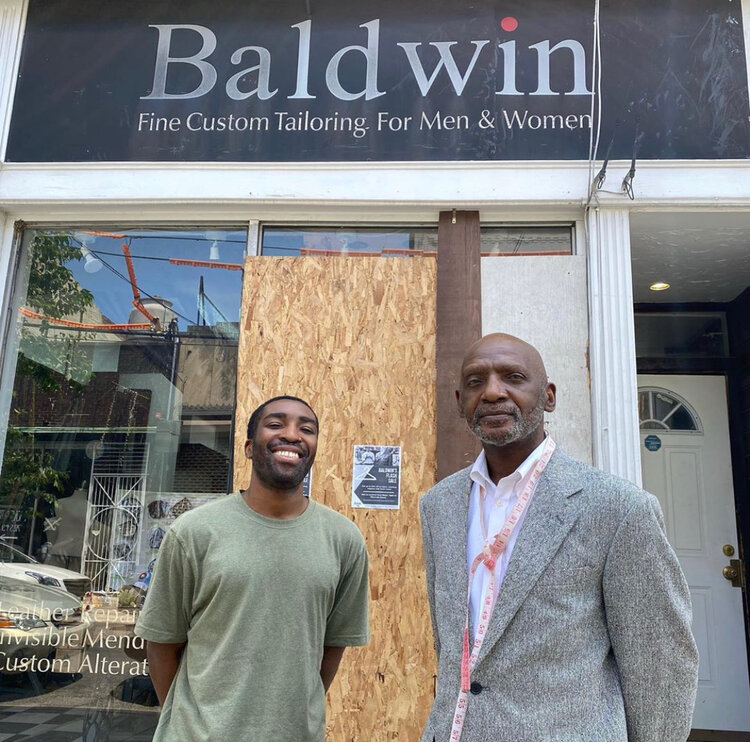 On the first night of protests in Philadelphia, Larnell Baldwin got a call that his store had been broken into.
"One of the merchants up the street saw someone break my window and called me," he said.
When he arrived at his store, Baldwin, 60, discovered a smashed window and stolen merchandise, including face masks he had been selling during the pandemic.  
"I understood the rage of our nation and Black people specifically, but it was hurtful to find out my dad had been caught in the crosshairs," said Christopher Baldwin, 25, who lives in Boston but has been in Philadelphia to support his father. 
Following the looting, Christopher and one of Baldwin's students, Erica "Q" Mukai Faria, took to social media to spread the word and raise funds to rebuild Baldwin's historic business. The response was one of overwhelming support.
"I saw the outpour of love from the community but also from people in other countries that wanted to help out," said Baldwin. "I feel blessed that I people care about what I'm doing and say 'We're here to support you and want you to keep doing what you're doing.'"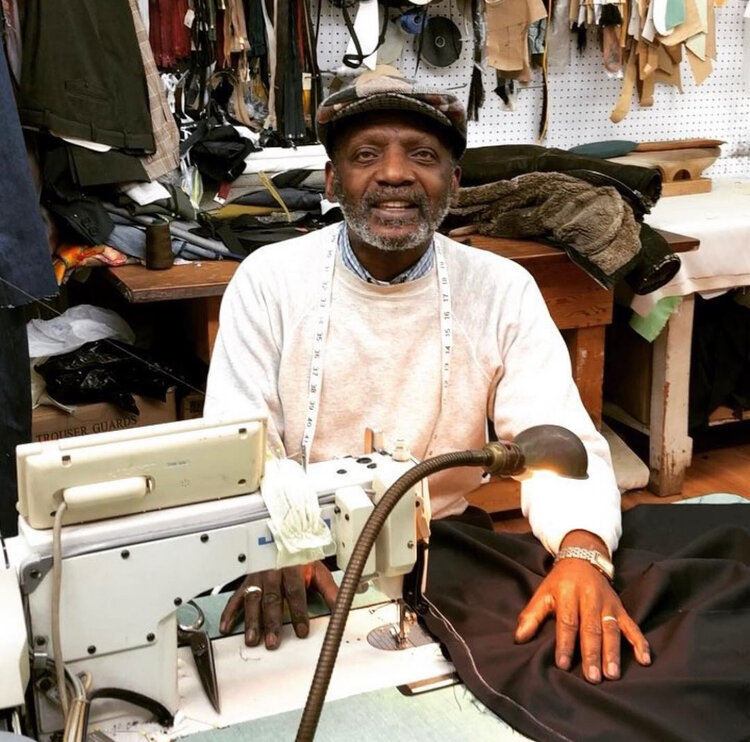 In addition to rebuilding his storefront, Baldwin plans to use funds to grow his Fashion Institute, where he can continue to teach the next generation of tailors and provide them with skills they can take to the job market.
"I hope what I'm doing at the Fashion Institute will provide people with a trade so that we can bring a lot of jobs back into this country," said Baldwin.
With four decades of crafting quality garments under his belt, Baldwin has inspired new talents while remaining a strong pillar in his community. 
"For my dad, teaching and continuing this trade and profession of fine tailoring has always been important. Through his students and his apprentices, he's been able to pass those skills down," said Christopher Baldwin.  
While donations for Baldwin's business came in from cities around the world, those based in Philly refer to Baldwin and his establishment as "neighborhood treasures."
From the outpouring of community support, it is clear those treasures could have never been replaced.