A Travel Guide to Seoul, South Korea
By: Ashley Hajimirsadeghi
Seoul is truly the city that never sleeps. The capital of South Korea has become quite famous for its abundance of things to do along with its cultural relevance. Whether you love shopping, hiking, food, or the arts, you can find a little bit of everything in this metropolis. With an itinerary starting the day with a sunset on Namsan Tower, to a sunset show on the Han River, here's how to make the most of your trip to Seoul.
Bukchon Hanok Village (북촌한옥마을)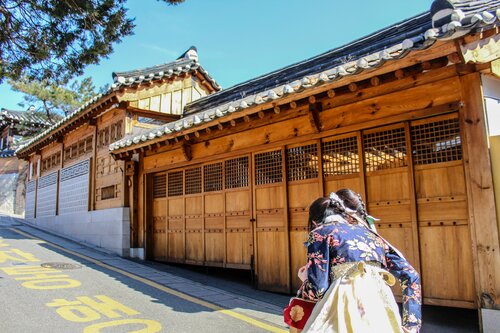 Located in the heart of Seoul, the Bukchon Hanok Village is an homage to traditional Korean architecture and culture. They originally were the homes of high-ranking nobility during the Joseon Era of Korean history, but are now homes, shops, and restaurants. Rent a hanbok (traditional Korean attire) and take a stroll around the village, stopping to eat Korean dishes like kimchi jjigae or tteokbokki at the restaurants, and head on over to nearby Insadong to buy souvenirs.
Gwangjang Market (광장시장)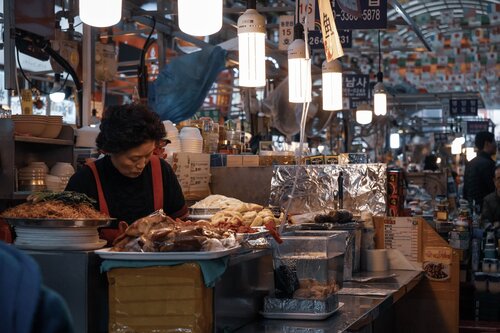 Located right next to the Dongdaemun Design Plaza, where Seoul Fashion Week takes place, Gwangjang Market is every food lover's dream. One of the oldest markets in Seoul, you can buy everything from traditional drinks like sikhye (a rice drink) to three-course meals for bargain prices.
Han River (한강)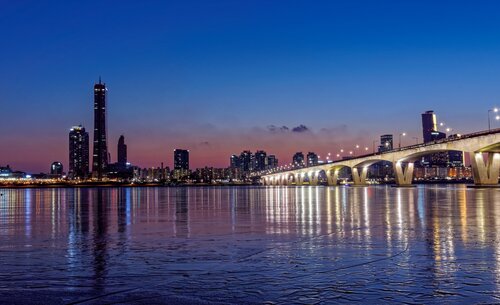 On a nice day, the Han River is the place to go! Live like a local and bring your picnic blanket to sit by the riverside. At night, there's a light show by the bridge. Order chi-maek (chicken and beer) then wander the parks and shops nearby.
Gyeongbokgung (경복궁)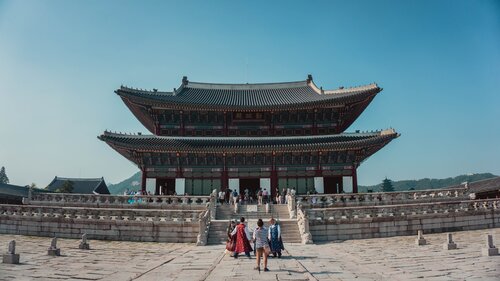 Gyeongbokgung is an ancient palace located in the heart of a fast-paced, modernized city. The largest of the five grand palaces built during the Joseon Dynasty, the palace grounds are vast and a joy to wander around. Like the Hanok Village, it's popular to rent traditional Korean attire and take pictures around the palace. The palace is conveniently next to Insadong, another key area to visit.
Namsan Tower (N서울타워)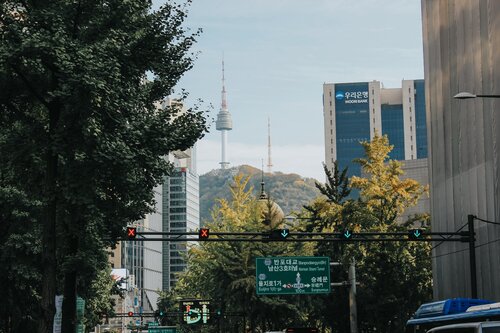 Take a cable car or hike the mountain to head up to Namsan Tower, a landmark that can be seen all around Seoul. Sunsets and sunrises are gorgeous at the tower, as the city lights of Seoul glimmer with the skyline. With restaurants, a trendy lock wall, a park, and another Hanok Village nearby (Namsangol Hanok Village), Namsan Tower is a must-go-to.
Hongdae (홍대)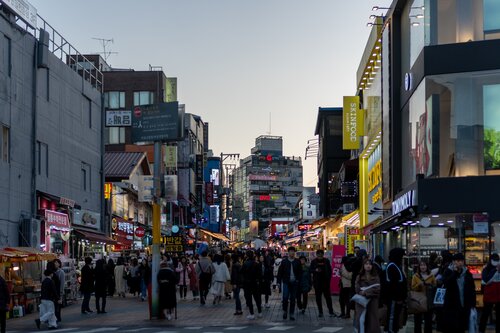 Hongdae is an excellent spot to hit up at any point of the day. Known for its shopping, food, and cafe scene, Hongdae also is well-known for its performing arts. Musicians, magicians, and dance groups all converge here to perform publicly. Afterward, head over to Edae to visit Ewha Women's University or Sincheon to visit Yonsei University, both of which are only one subway stop away.