A Look Back on the Trends of the 2010s
By: Mireya Perez
A decade is ending as 2020 approaches. Although it seems to have gone in the blink of an eye, ten years is a long time and none of us are the same as we were at the beginning of the decade.
With the evolution of social media through these years, the impact of fashion has marked every year of the decade with influential styles and memorable trends.
If you're a Millennial or Gen-Z, we're sure you can relate, or cringe, for that matter, at many of these trends. Some were fads and some are still around nowadays.
As you read through our list of 2010s fashion, keep score of how many of these trends you participated in at some point in the decade!
2010: Patterned leggings
The decade kicked off with a twist on regular leggings. Already a comfy staple in the wardrobes of many, leggings weren't new by any means. What made them trendy circa 2010 was an assortment of patterns; and not just stripes or dots, the craziest design you can think of were made into leggings: space-themed, stripped, fluorescent with alien designs on them…even metallic leggings with siren patterns. Luckily, this trend faded, but we're not lying here, it was fun for a while.
2011: Flower crowns
Around this time, street style got more casual and relaxed. With the breaking of Coachella into pop culture, the festival looks seeped into everyday wear, at least on social media. Somehow, everyone became obsessed with mustaches and pastel colors, simple or graphic baggy t-shirts paired with jeans and thick paste sunglasses. And let's not forget the flower crowns that many people completed their outfits with. Who doesn't remember the headpiece Lana del Rey wore in Born To Die? Iconic.
2012: Wedge sneakers
Since rising to popularity in 2012, high-end brands like Givenchy, Versace, and Steve Madden started to put out their variations of wedge sneakers. Celebrities loved them… for a short while. The wedge sneakers seemed to attempt a comeback halfway through 2018, but it didn't reach the same popularity they had back in 2012. Many people like to pretend this trend just never happened, and we don't blame them.
2013: High-waisted everything
The high-waisted pants trend came strong. Popularized first in the form of shorts and skirts, this trend soon took over every style of pants. Think Taylor Swift during the Red era. At first, people were not sure the trend was going to last. Low-cut jeans had been strong during the 2000s, but trends tend to go from one extreme to another every once in a while. Also, it's nice to sit down without your jeans getting down to your calves. They have survived the end of the decade and, most likely, this trend will continue in 2020.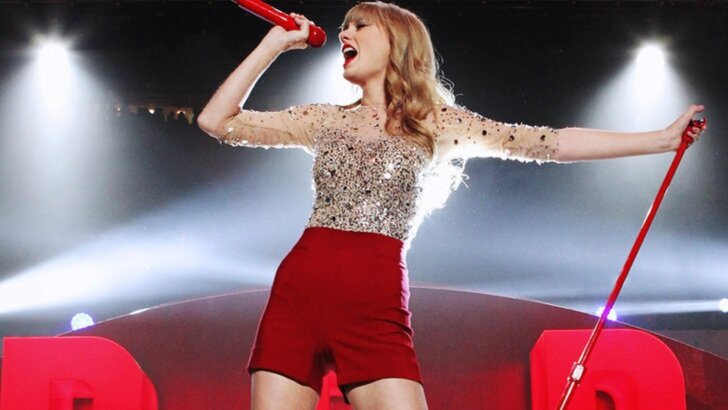 2014: Crop tops
The next big thing was crop tops. Also really popular during the 80s, this trend came back right after the high-waisted pants, and everyone thought they were the perfect combination. From sweatshirts to tops or baggy tees, everything came cropped over the belly button. This is another trend likely to hold on for a while.
2015: Chokers
Halfway through the decade, things took a 180-degree turn from the pastel and quirky looks of 2010. The hottest things in 2015 were dark clothing, choker necklaces, ripped everything, and fishnets. It was the start of the Tumblr girl era. Very popular during the 80s and 90s, choker necklaces made a comeback. Some necklaces were more sophisticated, but the ultimate fad of this year was the tattoo choker all over Tumblr and Instagram. Oh, and the pic had to be accompanied with #aesthetic, just to make it cooler!
2016: Band tees
Hand in hand with the previous trend, band tees were everywhere. Big clothing brands like Brandy Melville and Forever 21 started carrying Nirvana and Guns n' Roses t-shirts. It sparked a little bit of controversy within the hard rock community and left people wondering if someone with one of those tees was a fan of the group or if it was just for the look. Anyway, who cared if Kendall Jenner actually listened to Slayer?
2017: Tiny sunglasses
Since trends are cyclic and big sunglasses were a thing during the 2000s, 2017 was the year for tiny ones to take over. Having been a trend already in the 90s, many credit the designer Adam Selman for their sudden comeback. Brands like Stella McCartney took the lead in the making of this trend and, quickly, celebrities started wearing tiny sunglasses at the most random times. Have a red carpet at 8 pm, in which you won't be needing sunglasses? Then, tiny sunglasses are a good choice. They won't even cover your eyes but at least they look cool.
2018: Fanny packs
Fashion got more practical at the end of the decade. Along with sportswear, bike shorts, and sneakers, this 90s accessory enjoyed a style revival within the fashion community. However, the classic fanny pack had a twist to it – instead of being worn around the waist, the trend was to let it cross your body as if you were wearing a regular bag. Comfortable because of their size, it made not only celebrities like Bella Hadid join the trend, but also fashion bloggers and influencers. At this moment, the trend seems to be holding on.
2019: Chunky sneakers
Known as the dad sneaker, chunky sneaker, or even ugly sneaker, this trend took hold of everyone's wardrobes at the beginning of 2018 and became a settled trend at the beginning of this year. It can be traced back to the release of the Balenciaga Triple S trainers, but it wasn't long before other brands released their own sneakers in different colors and shapes.
With the start of a new decade, we can't wait to see what fashion has in store for us. What trends from the past decade do you hope stick around?