A Guide to Thrift Shopping in Paris
By: Aisha Morales
The verdict is in: thrifting in Paris is amazing. Earlier this year, I arrived in Paris with only one suitcase and one carry-on. Little did I know that I would be spending all my money on thrifted jackets, shirts, and scarves.
Who can resist the Parisian sense of style? The simplicity and neutral colors, the red lip, the trench coats, and the blazers. I am a person that, unfortunately, changes their style throughout the years (let's not talk about my 2015 emo phase). Nevertheless, as the years pass and maturity levels rise, I have found myself gravitating towards the Parisian sense of fashion — so elegant and sophisticated in my eyes.
As much as I love Paris, the French capital is far from affordable. Thrifting is one of the best things to do in Paris, especially as a student that spends way too much money on croissants and pains au chocolat.
There are a variety of thrift shops in Paris—some are really cheap and other shops will make you question whether the price is a joke or not. To save you from guessing and help you score the best deals, I've scouted the best thrift shops the city of love has to offer, and they're all within walking distance from each other!
Free 'P' Star
The. Best. Thrift. Shop. Ever. I am not kidding when I say this. The amount of clothing in this thrift shop can be overwhelming, but it is well worth a visit.
There are two Free 'P' Star shops on the same road. One is tiny and it is PACKED all the time but you can always find good bargains in there. The other one is right across the road: way bigger, still packed (especially in the 'all 1 euro' area). But do not fear the crowds — there is a reason why there are so many people — it's because it is THAT good. I have bought two jackets in Free 'P' Star, one of them being my dearly beloved trench coat, which cost me 10 Euros (!!).
Mad Vintage
Quite well known, Mad Vintage is less chaotic than Free 'P' Star but considerably more expensive. I have never bought anything from there, notably because I can easily find similar clothing for much cheaper in other thrift shops or even in high-street stores. However, if you don't mind splurging a bit more for good-quality vintage clothing, Mad Vintage is the way to go! They have a good selection of clothes and it is great for scoring customized denim jackets, as you can get patches to put on them as well!
Kilo Shop
It is always a win-or-lose situation with Kilo Shop. Sometimes the clothes will appear quite cheap, but when you arrive at the till it magically is way more expensive than you originally thought it was going to be. The prices are a bit similar to Mad Vintage, just a bit cheaper, so if you dig well you can find really good deals and not spend too much money.
Hippy Market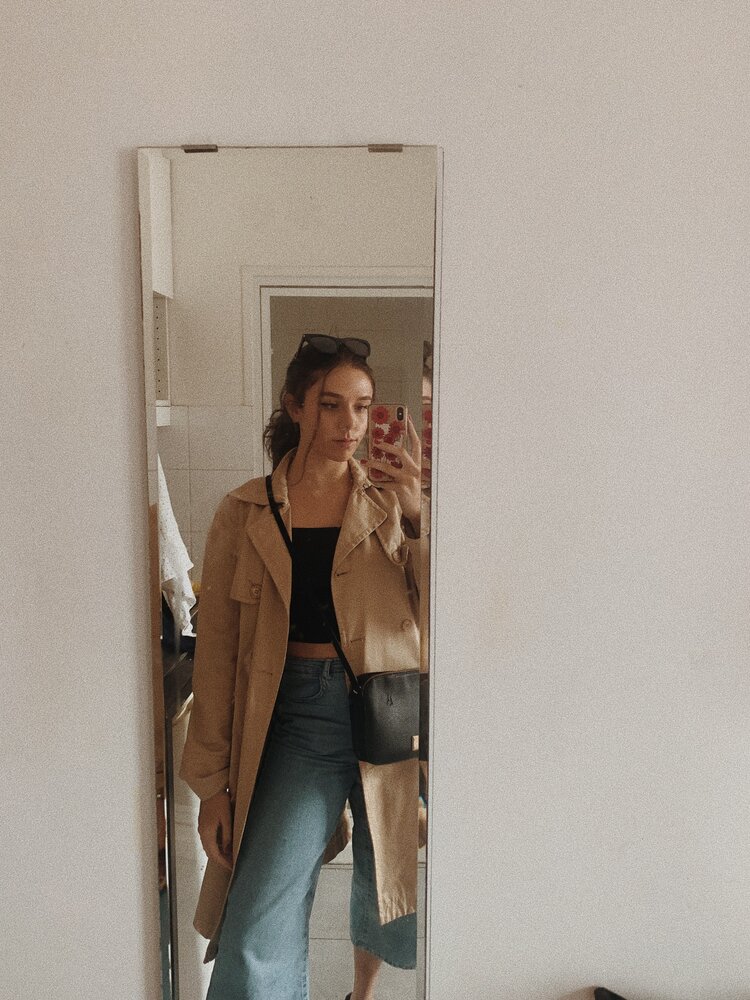 A bit further away from the thrift shop street, Hippy Market is similar to Mad Vintage. You can find good prices, but you will have to dig in deep to find them. I have been in there twice, and I bought my dear bucket hat in there for 10 euros (which I think is an OK price, since I did find a similar bucket hat in Stradivarius for 15 euros).
Guérisol
Located near the Sacré Coeur and in front of the Barbs metro, Guérisol compiles all the good things about every other thrift shop I've mentioned: good prices like Free 'P' Star, nice layout, and no messy piles of clothes like Mad Vintage and Hippy Market. However, yet again, you have to dig in order to find the goods. There is so much clothing you can easily find yourself in there for a solid hour browsing through the rails. Plus, it is quite far from the main shops, which means that it does not get as packed as other shops (at least when I went). During my search at Guérisol, I managed to cop a nice black jacket that I wear practically every day, for just 10 euros.