A Bridgerton Review: Not Your Mother's Period Piece
By: Namra Khan
With over 63 million views and countless press, Bridgerton is the modern romantic period drama that has been generating a buzz in recent news. With its 'colorblind' casting, gorgeous set design, and stunning fashion moments, Season 1 of Netflix's popular new drama has shocked and captivated audiences like never before. 
Bridgerton is nothing like your mother's period piece, it's not wrought with white-only casts and lazy storylines. Still, looking for a reason to take part in the hype? Look no further, here's a review of Bridgerton:
Plot
Giving us a foray into the lives of 19th century London high society, Bridgerton begins with the main character, Daphne Bridgerton, the eldest daughter of the Bridgerton household 'coming out' in society, which consists of attending balls and dances to secure a well-titled and monied husband. Debutantes bustle around in gowns of silk and taffeta, with anxious mothers and chaperones by their side, competing for the attention of wealthy and handsome suitors. One of these potential suitors happens to be the Duke of Hastings, a mysterious and unwilling participant in the race to find a match. As fortune sees fit, their paths align and the drama and star-crossed romance begins. 
While the hunt for suitors is taking place, minor plots like that of Daphne's brother, Viscount Anthony Bridgerteron, are honed in on. As the eldest son and head of the Bridgeton household, the dashing yet hypocritical character is on a mission to secure a respectable match for his sister, no matter her wishes, whilst having a scandalous affair with an opera singer. The other society families such as the Featheringtons are not as picture-perfect as they seem to be either, and soon plots and interests collide.
Throughout all of this drama, a Gossip Girl-esque pamphlet circulates the town, where a mysterious Lady Whistledown reports on Daphne's difficulties in finding a suitor and other scandalous societal happenings. To save you the spoilers, the plot progresses uncovering themes of male pride and fragility, double standards, and how far men will go to preserve female virtue and innocence. If you want a multi-layer story that keeps you guessing, you'll be hooked like the rest of us, anxiously awaiting Season 2. 
Characters
The show has been stirring up a lot of controversy for its colorblind casting, giving Black and Asian characters prominent roles as queens and dukes and avoiding their common roles in historical pieces: servants and enslaved people. For viewers who were hurt by the inclusion of BIPOC in Bridgerton, I have a few bones to pick: people of color have been around forever; they didn't magically start existing after the 19th century.
Next, Bridgerton is not based on a true story and the pleas for 'historical accuracy' are difficult to take seriously when white actors have been cast shamelessly as Black and brown people, time and time again (Prince of Persia, Argo, Ghost in the Shell, and more recently Dune). I applaud Shondaland for not white-washing yet another historical drama, and showing that white people aren't the only ones who can serve as the holders of elegance and power.
In terms of characters, the more heavily developed characters—Daphne, the Duke, Anthony Bridgerton, Penelope Featherington, and Marina Thompson—took center stage in the plot. These characters' narratives showed the true feelings behind the veil of their titles, despite the prim and proper nature of the scandal-fueled society in which they operate.
The only character I felt needed more development was Colin Bridgerton, a character whose motives and love for Marina were explored only on the surface. Hopefully, Season 2 will bring a focus on Colin, whose character is delved into after Daphne, according to the book series. A personal favorite was Eloise Bridgerton, whose opinionated and bold personality is seen through her anti-marriage agenda and her search to uncover the identity of Lady Whistledown. Whatever your preference, Bridgerton has a host of complex characters, there's a personality and favorite for all viewers!
Set design
Set in Regency London, a period known for its elegant Gothic Revival and Greek-style architecture, Bridgerton's set design is a virtual feast for the eyes. Whether it be the purple wisteria-covered Bridgerton house, set in a Georgian mansion in South London, or the lavish galas sprawling with flower arrangements and twinkling lights. The wallpaper and art used in the interior rooms of the Bridgerton and Featherington households employed a color and motif unique to each family.
While the old money Bridgertons have a minimalist dwelling, the new money Featherington's have a maximalist home. For the Bridgertons, a signature duck egg blue—officially called Wedgewood blue—was used in combination with a pastel palette of cream and gold complemented by a bee motif. For the Featheringtons, a butterfly motif is weaved into the rails of the house staircase and a flamboyant lime green paints the rooms, complemented by gilded gold mirrors and damask wallpaper.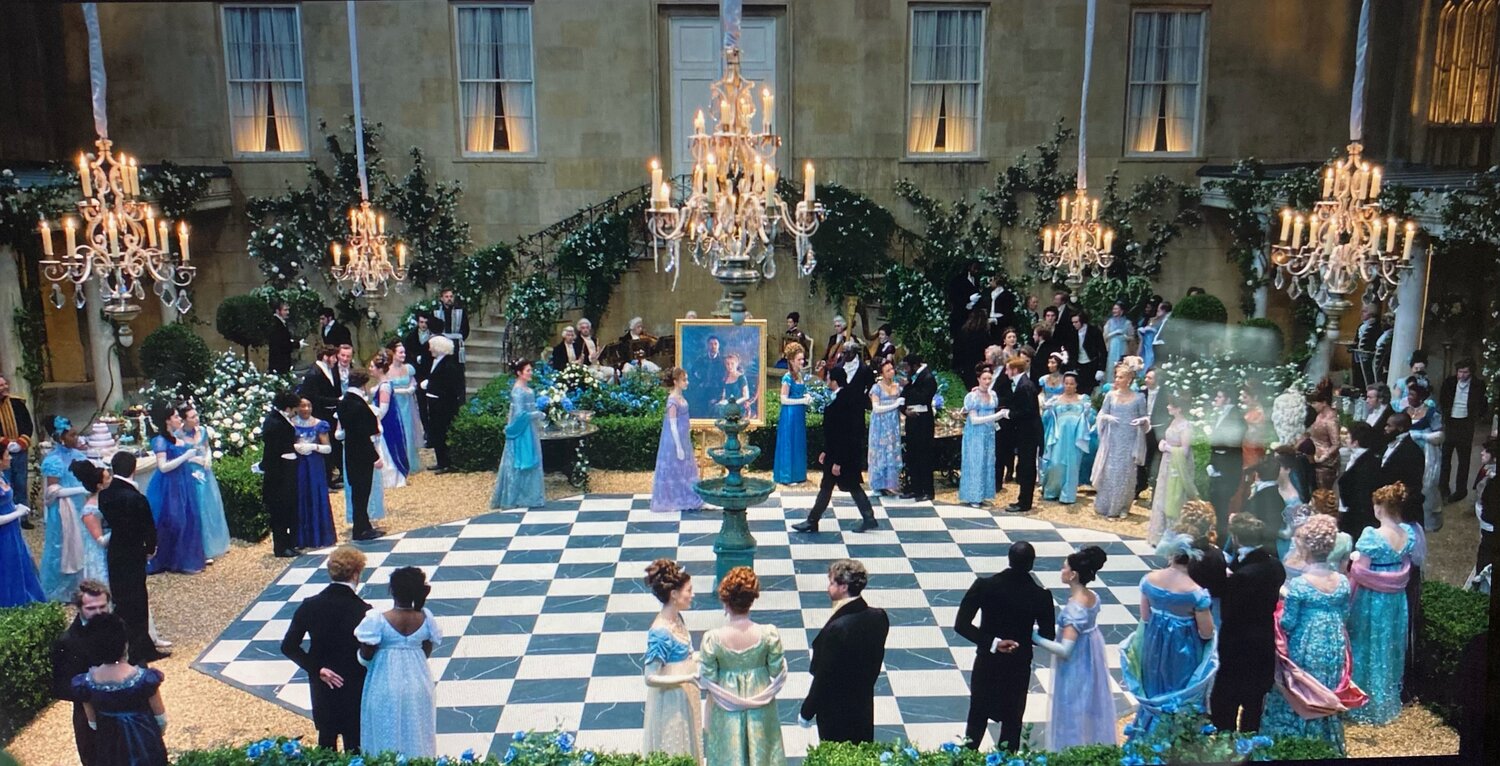 The Duke of Hasting's country house, with its grandiose columns and ethereal dome paintings, like the many galas of the show, was filmed in castles and museums all across England. A crowd favorite was the majestic final ball scene, where the Duke and Daphne hosted their first party. Complete with gold candle-lit chandeliers, a checkerboard dance floor, lush green drapings with indigo and white flowers, and emerald fountains, the romance of the scene felt complete with a dusky rainfall. If you're a sucker for elegant architecture and a set design that draws you in, Bridgerton is for you!
Costume design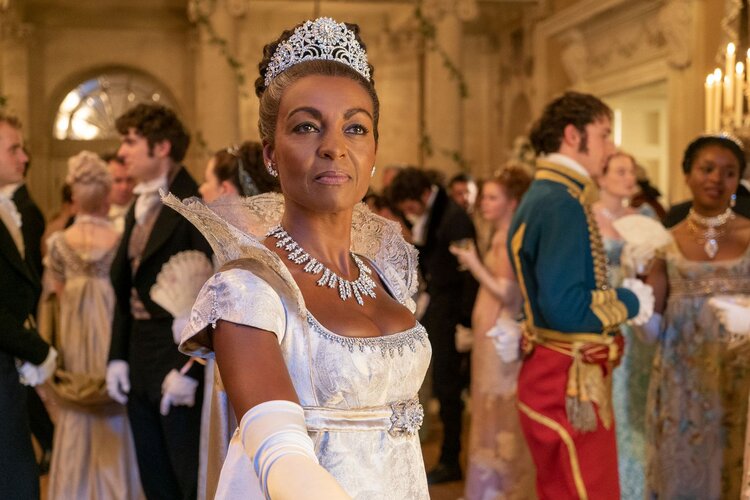 Perhaps the most exciting part of Bridgerton was the phenomenal costume design. The drama had 7500 costumes, with a team of 240 designers responsible for perfecting every feather, jewel, and pearl on the empire dresses, overcoats, and corsets. Daphne Bridgerton's dresses were layered with organza and tulle and embellished with gems, giving them a dreamy movement.
The Featherington's were known for their vibrant and colorful dresses, with plenty of jacquard and embellishment to make sure they were seen. What could make the clothes even more magical? Materials like shiny silk, delicate organza, and floating taffeta swished to the tunes of violin renditions of Ariana Grande and Shawn Mendes hits. The same old money refinement and new money ostentatiousness are reflected in costumes. Where the Bridgertons wear pale blues, purples, pinks, and creams while the Featheringtons are outfitted in overly embellished yellows and magentas. 
A unique element the designers considered was the absence of bonnets, opting for more modern headbands, tied ribbons, feather headpieces, and crowns instead. Although not a crowd favorite, I was a huge fan of Eloise's delicate and interestingly tied ribbons and even the piled-up high braids of Cassida Cowper. The sophisticated designs, although not completely historically accurate, need to be seen to be believed. I'll leave that part to you, have I convinced you to watch Bridgerton yet?