9 Essentials to Get Through the Winter
By: Tajiya Holland
With winter here, you may find yourself excited for a fresh start with the new year, in nostalgia as it snows, and dreaming of a winter wonderland. But do you find yourself at times lacking interest in everyday tasks or oversleeping more often? If so, you may be undergoing the winter blues. Winter blues affect the body and spirit as a whole and is due to the shortening of daylight hours and hibernating with cold weather. Self-care for your physical and mental health can be essential throughout this time. Below are items and mechanisms that can support your overall well-being during the season.
Ambient lighting
This specific lighting creates illumination that is enough to see throughout a room and a comfortable amount for the eyes. It provides a sense of warmth to an area, ideal for dark and cold days and nights. You can achieve this setting by placing lights at opposite ends or corners of a room. Use the fixtures already installed in your home, floor lamps, string lights, and especially candles.
Textiles for you and your home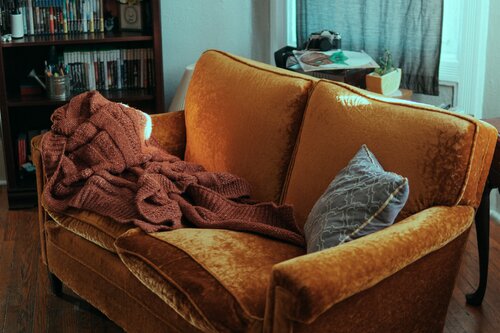 Stiff and tight clothing can feel a bit restrictive and uncomfortable. Switch out your jeans and button-down for an oversized sweater, soft loungewear joggers, and throw on a pair of fuzzy socks. Add a pillow or two for cozying up to and comfort wherever you sit. A blanket should do the trick with trying to stay warm. Area rugs are perfect additions to not only keep your feet warm from the cold floor, but they help to make the space feel more intimate.
Warm food and drinks
Take time out to prepare your food and drinks. Curate a menu to your specific wants & needs, and follow along with recipes. By doing so, when it comes time to enjoy what you prepare, you will also gain much more of an appreciation for it. Your meal will not only provide your body with warmth and nourishment, but it'll feed your self-esteem as well.
Have a nighttime routine
Although having a bedtime routine seems like a system for children, it can assist with having a great night's rest. Humans have an internal clock, and conditions such as cold temperatures and darkness send cues that affect our bodies to want to sleep. Set your thermostats to be warmer before your usual bedtime and cooler during the middle of the night. The method will support at first, getting comfortable and then deep sleep. Wind down from the day with a decaffeinated hot beverage, a lavender scent candle, or oil diffuser, and limit blue light exposure, as all three of these promote ease and relaxation.
Go outside!
There's a reason why you hear this so often. A simple remedy for cabin fever is going outside. A hormone that stabilizes feelings of happiness is serotonin, which is raised by natural sunlight. Being outdoors also gives you vitamin D, improves your immune system, and when walking increases your creativity. Although the temperature may not be ideal, bundle up and head out once in a while.
Hangout with friends
With restrictions in place due to the pandemic, virtually hanging out with friends is a great option! Have quality time with a small friend group. Whether you're having a watch party, joining a class together, or merely chatting, taking a break from the mundane routine with others is both fun and beneficial. Socializing with others can shift your perspectives and outlooks for the better on days you feel down. Find time to get out of your internal thoughts and have a laugh with others.
Have a hobby
Consider doing something regularly each week purely for enjoyment, an activity that doesn't act as a side hustle and outside of your professional field. Hobbies are a great way to relieve stress, find other purposes, open your mental space, cultivate new social connections, and many more advantages. Whether you want to exercise, paint, bake, something you stopped doing, or something new you want to try, the winter season is the perfect timing to do so.
Unplug
Turn away from your electronic devices. Physically being hunched over staring at a screen strains your brain, eyes, neck, hands, arms, back, and the cold weather surely wouldn't soothe them. Outside noise is abundant, and not always is it positive. At times there are expectations placed that you should be doing what everyone else in the world is. Loneliness, dissatisfaction, and envy can occur when spending too much time online, especially with social media. Unplugging promotes the practice of gratitude. Winter is also a time to rest and reflect.
Do nothing
In many current societies, there is a sense that one must always stay productive. Burnout is real, and with winter's slower pace in nature and its effects, trying to stay productive can be a drag. Sit inside and mimic nature by being still. If you're brave enough to face the cold, sit outside and listen to the winds. Connect with those around you, whether a furry friend or a loved one. Be present.
There are winter sports, snow sledding, slow cooking, movie night-ins, knit sweaters, sunrises, and sunsets. The positives always outweigh the negatives. By using these methods, coping can be a lot more joyous.