7 Things To Do in Gran Canaria, Spain
By: Aisha Morales
Gran Canaria is known for being a "continente en miniatura" (a miniature continent). Just a four-hour plane ride from mainland Europe, many Brits and Germans often choose the Canary Islands as a location to relax poolside and enjoy cheap cocktails in the evening.
From relaxing beaches to trekking mountains, Gran Canaria has everything to offer a large demographic of people. Proud to call it my island, here are seven things to do on the island which do not only involve going out in Playa del Inglés all night and sleeping all day.
Explore the Maspalomas Dunes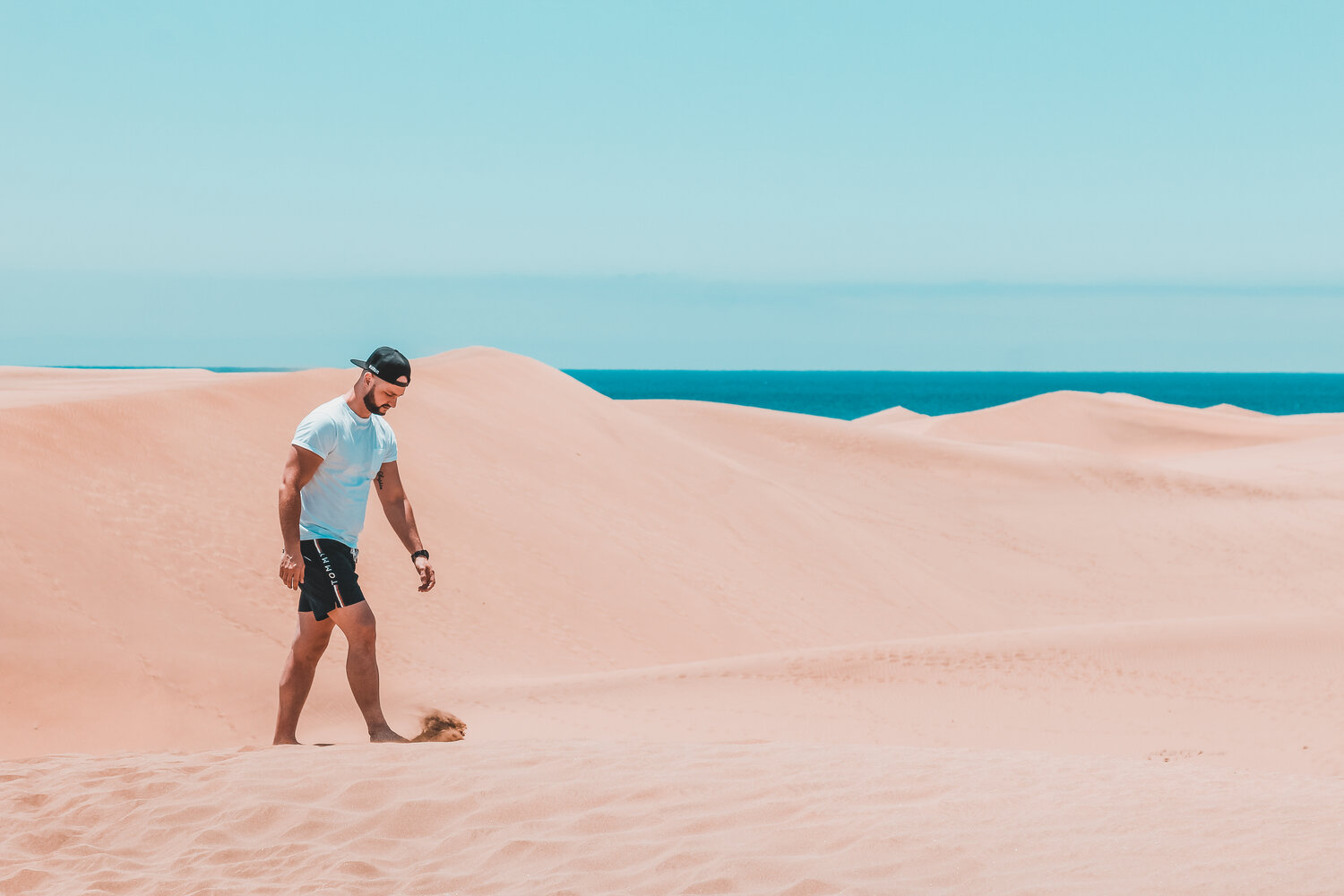 One of my favorite places on the island, this site is a huge esplanade of white dunes, where you can easily get lost and take all the Instagram pictures you want.
Pro tip: If you are going on a hot day, don't forget to bring your flip-flops! The sand burns and you do not want to be in that situation when you are 200 meters away from the seawater.
Treck to the Roque Nublo
One of our most famous landmarks, I often go there with my family at least once a year. It is not very well known amongst tourists, but if you are the adventurer type, go and have a look! From the top, you can see Teide Mountain, located on the neighboring island of Tenerife. It is honestly one of the most amazing views in the whole of Gran Canaria. And if you can, stay one night at a cabin in El Garañón, a little site not too far from Roque Nublo.
Pro tip: Bring an anti-sickness pill if you take the bus up to the Cumber (the archeological site of Roque Nublo), as the road can get pretty windy. Still, so worth it!
Visit the natural swimming pools of Agaete
Or, must I say, visit the village of Agaete. A little fishing port, Agaete stuns tourists with its amazing views from its rocky beach. Being a fishing port, you can also taste our Canarian gastronomy in one of the restaurants located near the beach, where you can try the papas arrugadas con mojo or gofio escaldado (go to a local Canarian restaurant and check these dishes out!).
Pro tip: If you have a few days to spare and you have managed to do everything in Gran Canaria (which I doubt it!), hop on the ferry in Agate towards the island of Tenerife and stay in an Airbnb for a couple of nights there.
Visit the town of Teror
The town of Teror has everything, from delicious chorizo to its famous honey rum (a true staple for Canarians on a night out). Teror is a little village that can be visited for half a day, to take a few snapshots and savor some of its delicacies.
Pro tip: If you are visiting Gran Canaria in September, there is the iconic fiestas del Pino, where the youth walk from the capital up to Teror to give their thanks to the virgin of El Pino, before staying up all night dancing to the beat of reggaetón music and drinking Ron Miel, the honey rum.
Visit the Casa-Cuevas of Guayadeque
In Guayadeque, where you can find a little museum about the natives in the Canaries (called the Guanches), there are a series of restaurants that are inside man-made caves where you can get to know (even more) the Canarian food. It is located in the South-East of the island, so if you are traveling from the south to the north (or vice-versa) and you are a bit hungry, I highly suggest taking a detour and eating at one of these house-caves.
Pro tip: If you go during spring, you'll be able to see the blossom trees flourishing. After your lunch, take a walk around the mountain and explore the sites and capture a couple of shots of those blossom trees.
Take a trip down south to Port of Mogan
Mogán is a little coastal town at the very south of the island. There, the little streets make it such a peaceful setting and it is a great place to relax by the beach. Every time I go with my parents we always go to Café de Paris, a cafe next to the beach. If you go there, the pastry to have is the mazarina de azúcar. The best day to visit is on a Sunday, as there is a market going on and you can get yourself some pretty souvenirs.
Pro tip: If you are going to Mogán, be sure you are getting off at Puerto de Mogán, not the actual village of Mogán, which is miles away.
Visit the iconic Cathedral of Gáldar
Every time I go past Gáldar it amazes me how eccentric and huge this cathedral is compared to the little village in which it is situated. It is an amazing archeological site that is worth a visit. Plus, there you can also find some of the honey rum, as it is located right next to Arucas, where they make the drink.
Pro tip: When visiting Agaete, get up early in the morning, so you can see Gáldar and its cathedral at your leisure.
---
Whatever you choose to do, Gran Canaria is a place where you can relax and visit some amazing places. Although it is seen as a cheap and cheerful holiday destination for some, the island has so much to offer that it is not one to be excluded from your bucket list!