5 Romantic Comedies to Watch on Valentine's Day
By: Tiara Starks
Romantic comedies have been providing us with an escape from reality since the inception of the genre in the 1930s. Whether you're spending a night with your significant other or enjoying hearty laughs with your friends, there's nothing like curling up on the sofa with a delicious cocktail and watching a movie guaranteed to make you smile. Best viewed after a romantic night of cooking, these five films are filled with fun storylines, plot twists, and of course, plenty of love.
Something Great
Jane the Virgin's Gina Rodriguez stars as Jenny—a music journalist about to move from the gritty streets of New York City to sunny San Francisco to start her dream job at Rolling Stone. After a breakup with her longtime boyfriend, Jenny's girlfriends (played by Dewanda Wise and Brittany Snow) plan a final, outrageous girls' night before Jenny's move. This hilarious and adventure-filled romantic comedy is a must-see with your friends. Something Great is available to stream on Netflix.
The Lovebirds
Issa Rae and Kumail Nanjiani star in this film as a couple on the verge of a break-up. When they involuntarily become involved in a murder mystery, their journey to clear their names becomes a defining moment in their relationship. Tune in to this action-packed rom-com to find out if this duo can solve a murder mystery while salvaging their relationship. The Lovebirds is available to stream exclusively on Netflix.
The Broken Hearts Gallery
This Selena Gomez-produced film stars Geraldine Viswanathan as Lucy, a young woman with a broken heart, who starts a gallery for people to leave mementos of past relationships. Dacre Montgomery plays Nick, who assists her in creating the gallery and becomes her love interest. The cast also features the talent of Broadway actresses Phillipa Soo and Bernadette Peters. The Broken Hearts Gallery is available on Amazon Prime, Vudu, Youtube, and the Google Play Store. 
Happiest Season
Kristen Stewart leads this film as Abby, a young woman ready to propose to her girlfriend, Harper. Things take a turn when Harper reveals she hasn't come out to her conservative parents. Schitt's Creek's Dan Levy portrays Abby's best friend and provides plenty of advice and laughs throughout the movie. Although a holiday movie, this is a great one to watch for a heartwarming story with a powerful message. This film is the first LGBTQ Christmas movie produced by a major Hollywood studio. Happiest Season is available to stream on Hulu.
Palm Springs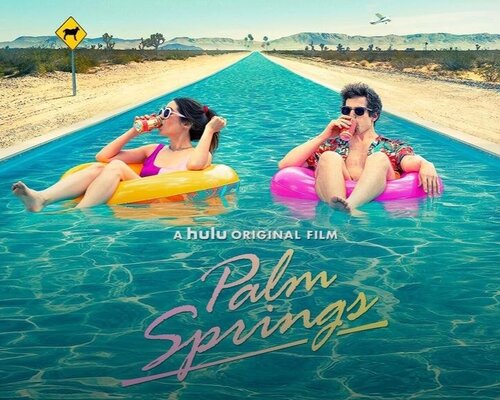 Cristin Milioti and Andy Samberg play two wedding guests who fall into a time loop and develop a budding romance. This movie received plenty of buzz, setting a streaming record for Hulu in 2020. Palm Springs is also up for potential wins at the upcoming 2021 Golden Globes Awards for "Best Musical/Comedy Picture," and Andy Samberg is nominated for "Best Actor in a Motion Picture Musical/Comedy."Palm Springs is available to stream on Hulu.