5 of the Most Iconic Fashion Films of All Time
By: Ashley Hajimirsadeghi
Have you ever watched a movie and thought, "Wow, I love that character's outfit!" When the worlds of cinema and fashion collide, new trends and muses are born that can inspire the world. For example, the 'French girl' aesthetic stemmed from the icons of the French New Wave (which lasted from the 1950s to the 1960s) like Anna Karina, Brigitte Bardot, and Jean Seberg. Meanwhile, in the States, actresses Audrey Hepburn and Marilyn Monroe rose to stardom and set the tone for entire eras.
While the clothing styles are no longer worn in the contemporary era, period films serve as a time capsule of a distant, but fascinating, past. Here are a few films that teleported us back in time to decades rich with history, drama, and of course, fashion.
Atonement (Joe Wright, 2007)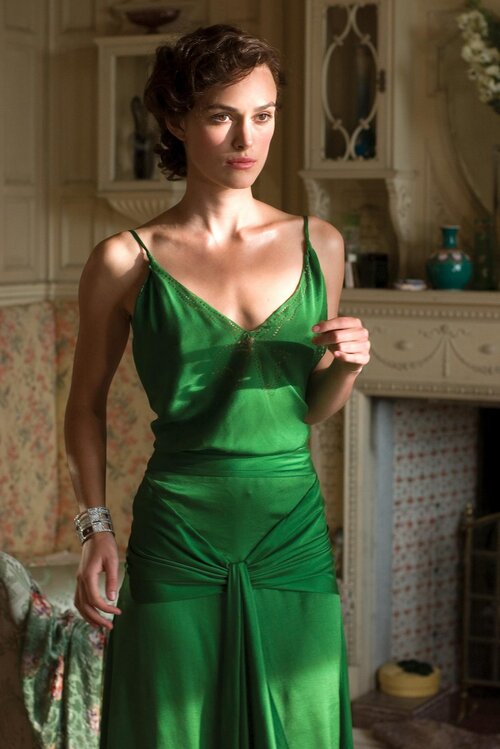 If we're talking about the fashion in Atonement, Keira Knightley's green dress is an iconic look, one considered an all-time favorite of many film buffs. A bright-green dress with a plunging backline, it's undoubtedly a show-stopper. While the film itself might not be historically accurate (Keira Knightley's character, Cecilia, is often depicted wearing attire with thin spaghetti straps and plunging necklines, which were not common in England during the period), the costume design is still quite superb.
In The Mood For Love (Wong Kar-Wai, 2000)
In the Mood for Love is one of the most beautiful films to have ever been made, and its fashion is a key part of that. Mrs. Chan, the female lead in the movie, is dressed in twenty different qipaos throughout the story. These beautiful qipaos add another layer to the film, such as when a bright red suggestive one is worn when Mrs. Chan and Mr. Chow are alone in a hotel room together.
Marie Antoinette (Sofia Coppola, 2006)
A period drama set during the reign of Marie Antoinette, Sofia Coppola's film holds nothing back about the rococo era of fashion and won the Oscar for Best Costume Design. Intensely extravagant, feminine, and risque at times, the attire of the characters makes a bold statement: all or nothing. When we start Marie's journey with tight corsets and hoop skirts, they become bigger and grander as the story unfolds.
Phantom Thread (Paul Thomas Anderson, 2017)
Phantom Thread is a film about fashion–the main character, played by Daniel Day-Lewis, is an haute couture dressmaker who finds his muse in a foreign waitress. As a result, we get to see the muse in all of his creations, which are stunning pieces of art. There is an entire fashion show within the movie, in all of its 1950s haute couture glory.
House of Flying Daggers (Zhang Yimou, 2004)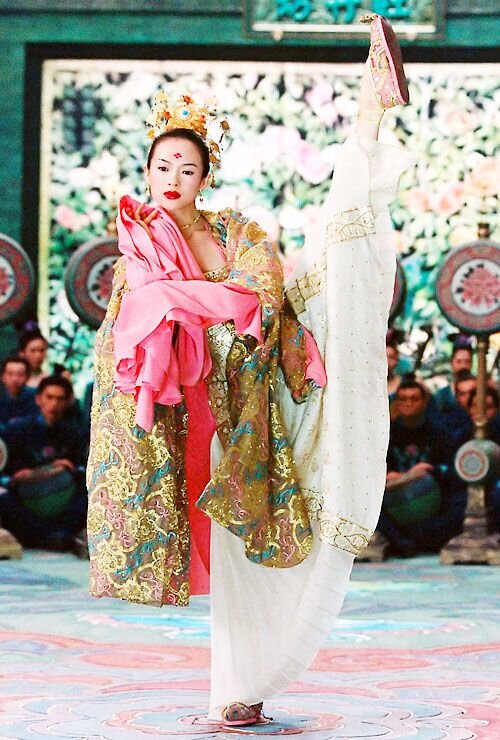 When talking about the style in Zhang Yimou's House of Flying Daggers, the character of Mei, played by Zhang Ziyi, immediately comes to mind. Her costumes were elaborately and traditionally designed, in rich shades of blue, purple, and pink. The film's costume designer, Emi Wada, would later go on to win a BAFTA award for her work.