Conscious Consumerism With the Girl in Calico
When you visit Calico and Twine, you are greeted by a series of beautifully simple, yet perfectly crafted images. As you scroll through curated handmade and vintage items, you'll become aware that each plays a role in the mindful and seasonally-aware lifestyle that Calico and Twine promotes. This brand's aesthetic is a breath of fresh air, leaving you feeling more in touch with the natural world around you.
Kaetlyn Kennedy is the woman behind Calico and Twine and we spoke to the Ohio-based small business owner about creating her brand, promoting conscious consumerism, and her goals for the future.
How did you start your business, Calico and Twine?
Calico and Twine actually formed out of a rebrand of my previous Etsy shop, Tumbleweed and Twine. I had been selling hand-painted wooden signs, which I really enjoyed doing, but eventually stopped feeling like me or my style. At the time I was getting more into sustainability and conscious consumerism and wanted to curate a shop that reflected both of those things, not just selling cute home decor. Calico and Twine was born in mid-summer 2018 and has grown ever since. We now sell a variety of vintage clothing and goods, as well as lifestyle goods that help people live simpler, more sustainable lives. Our goal is not to encourage purchasing things that aren't needed, but to give people sustainable options for things that are needed in everyday life.
One of the key values of Calico and Twine is being a conscious consumer, what does that mean to you?
Being a conscious consumer means that purchases are thoughtful and intentional, rather than cheap and impulsive. For so long, we've had a mindset of 'I don't really need this, and I may never wear it, but it's only $5 so I can't pass it up!' That leaves us in a cycle of shopping that costs us money, supports unethical and unsustainable fast fashion, and leaves us with a closet full of clothes while still feeling like we have nothing to wear. The same thing can happen with any items that we bring into the home. Instead, when we act as conscious consumers, we give ourselves time to reflect on our current wants or needs and ask ourselves, 'Do I really need this? Do I really want this? Is there a sustainable version that I can purchase? Is there an ethically made option that I can purchase? Is there an option that will last we longer and be worth the investment?' Conscious consumerism is buying slowly and buying less, while convenient consumerism is buying more and buying impulsively.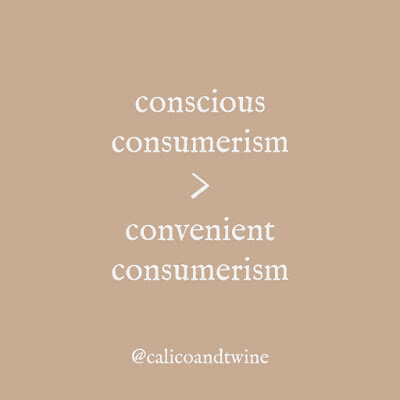 How can people become more conscious consumers?
It can be easy to feel the need to completely uproot and change all your belongings and way of shopping, but this can become overwhelming. Start small and ask yourself the previously-mentioned questions the next time you make a purchase. Sleep on it or wait a week if possible. You may notice that most of the things we need twill be forgotten in a week or two. That's a sure sign that it's not necessary to bring the item into your home. If the thought or need is still nagging you after thinking about it for a while, then it's time to make a purchase!
What does a typical day running Calico and Twine look like?
A typical day begins with a slow morning where I have time to sip my coffee, read my devotions, meditate, or exercise if I desire. Being able to carve out this time is one of the best parts of working for myself. I can create my own schedule and work or rest when it's best for me. After my slow mornings, I start my workday on my computer and my phone, answering emails, comments, and DMs. I then take make time for creative work including photography, filming videos, styling outfits, and more. I'm most creative in the morning, so I always try to give myself free time to work on whatever feels right!
You talk about seasonal living on your blog. How do you practice that?
Seasonal living is a huge part of my life. It's helped me stay present and grateful for the current season instead of wishing for a different one. In the springtime, my favorite way to practice seasonal living is to get outside and plant a garden. Winters are often long and hard in Ohio, so being able to stretch my bones, get my hands in the dirt, and plant seeds that will become a harvest in the coming months connects me to nature and grounds me in a nourishing way.
What do you envision for your business going forward?
It always seems a little against the current when I say that I would like to stay small but I've never had dreams of becoming a huge company with factories or warehouses. I want to stay small and sustainable. I'd love to continue being a home-based family business, and maybe have a small general store on my property where I can continue to sell vintage goods, produce, teas, and apothecary goods. 
A special thanks to Kaetlyn Kennedy for sharing the inside scoop on her story and brand. Make sure to follow her on Instagram and visit Calico and Twine for more on sustainable living!